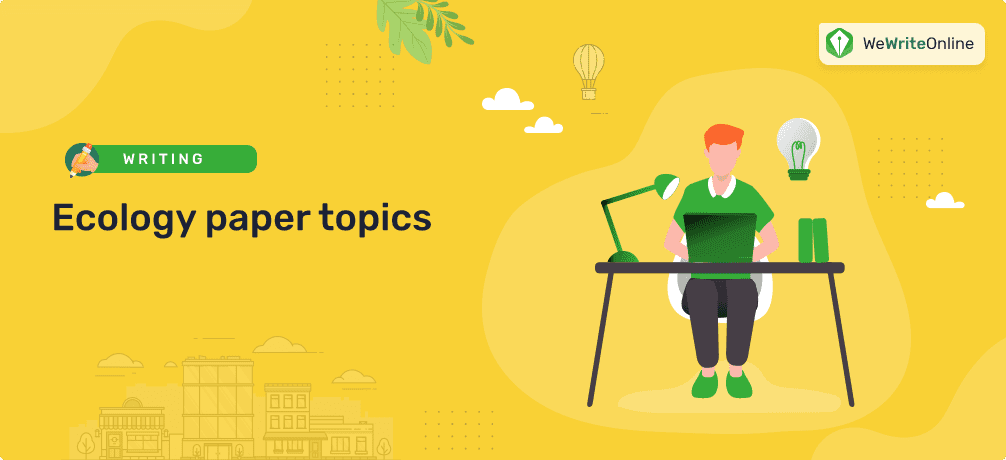 It may seem that writing essays on ecology topics are easy. Unfortunately, in the 21st century, there are many ecological problems that need in-depth investigation. To write great essays on ecology, one should work with the best ecology research topics. If you find it difficult to understand which topics are good and which ones are bad, we are going to help you. Studying our efficient suggestions, as well as looking through our list full of great ideas, you will definitely find something that will fit your research interests.
The best way to write an ecology essay is to work with a great topic. This topic should be fresh, relevant, and engaging. Picking up the subject that was previously discussed many times, you will probably fail your paper. However, choosing a good topic and developing it from different perspectives, you will be able to create a wonderful essay that will bring you the best grade. Let's get started!
List of Ecology Topics
Great Ecology Topics for Opinion Papers
In the 21st century, there are a lot of controversies around ecology topics. If you need to write an ecology paper supporting a specific viewpoint, consider choosing some of the topics suggested below:
Do you think there are situations in which natural ecology should be sacrificed for the sake of human needs?
Should the developed countries ban the use of plastics for the sake of ecosystems protection?
How does the change of climate impact on our local ecology?
Do you agree that new laws and regulations should be initiated to limit the use of fossil fuel energy?
Should we protect ecologies where endangered species live?
Great Ecology Topics for Analytical Papers
In what way can teachers enhance the ecological thinking of their students?
Discuss the problems in the African savanna from the ecological standpoint;
Discuss the origin of social ecology, as well as its application;
Sustainable agroecology and its characteristic features;
The ecology of polar bears significantly changed over the last 50 years. What are the main reasons?
The role of the natural green effect;
Great Ecology Topics for Argumentative Papers
Can we consider a deep ecology movement as a new religion?
Is there a real danger of irreversible damage to the planet?
Is consumerism the biggest ecological problem?
Do you think that ecological problems are covered enough in media? Why? Why not?
What are the most important interactions between animals and plants?
Great Ecology Topics for Research Papers
Explore the term "factorial ecology." What are the main instruments of factorial ecology?
Explore the concept "tragedy of the commons." How can the problem of overconsumption be solved?
Is biodiversity important for the environment? Explain your rationale;
Name seven biomes and explain what each of them means;
What is the purpose of conservation biology?
Great Ecology Topics for Compare and Contrast Essays
Make a compare and contrast analysis of equilibrium and opportunistic populations;
Compare three main types of symbiotic relationships;
Compare the limnetic, littoral, and benthic lake zones.
Great Ecology Topics About Humans
Undoubtedly, it is difficult to underestimate the role that humans play in the environment. As such, we recommend you to pay close attention to the topics exploring this impact.
Are big cities a good choice for a living?
In what way do acid rains affect aquatic life?
What is the relation between hydrogen peroxide and plant roots? Make a literature review;
Discuss the danger of conducting ecological experiments? Tell about the experiments that have brought enormous harm to the ecosystem;
What kinds of plants you are going to have in your backyard?
Describe the philosophy of agrarianism and explain why so many people follow it;
Are we responsible for the ecological catastrophe happening in the 21st century?
The problems of environment-related to fast food;
Discuss the concept of physiological ecology and tell why it becomes more and more popular nowadays;
In what way can the human improve the situation with water distribution to the underdeveloped countries?
Good Ecology Topics for Presentation
Making a PowerPoint presentation on an ecology topic can be a very interesting task. To convince your reader in your viewpoint, you may include images, graphs, and tables. However, to make a good presentation, you should not only possess excellent writing and design skills but you also need to work with truly great ecology topics. Below, you will find the great ecology project topics for PowerPoint presentations.
The latest technology innovations making hazardous waste more harmless;
Why it is so important to have an eco-friendly product in the 21st century? Explain your reasoning;
Discuss the use of moss to figure out which way is North;
Analyze the concept of "ecological footprint" and its characteristic features;
Making a restaurant an eco-friendly zone. How to reach a good outcome?
What are the main causes of dead zones in the seas and oceans?
The appearance of salt marshes;
Human consumerism as a serious threat to the environment;
How to make your home sustainable?
Is the damage made by humans to the planet is irreversible?
Discuss the principle of competitive execution;
Explain the role of sleep in human evolution;
What are the main causes of new infections?
Investigate the development of Covid-19 and its role in ecology;
Analyze the main causes and effects of black holes;
What is the impact of human activities on the melting of glaciers?
What are the main benefits of the natural green effect?
What is the relation between ecosystem functioning and diversity?
Vegetative reproduction against the sexual one;
Discuss the impact of climate change on the tundra.
Now, when you have the list of great ecology paper topics, it's time to start working on your paper. We assure you that by picking up some of these topics and developing them into a great essay or a presentation, you will impress your professor and get a good grade. However, if you feel that academic writing is not one of your strengths and you lack the writing inspiration, do not hesitate to hire a professional academic writer, who will complete your task instead of you.
Why Choosing the Best Topics in Ecology Is a Good Idea?
The choice of the topic in writing an ecology essay is, perhaps, the most important stage in the writing process because it defines the amount of time and effort that will be spent on essay writing. Indeed, choosing a good topic can be pretty difficult. Why? You have many classmates, who will be using Google for searching their ecology topics. The chances are high that your ecology project will be similar to dozens of other papers. Believe it or not, but your professor is tired of reading the standard essays with a series of standard arguments. To assess your project with a good grade, they want to see a truly fresh approach and an interesting topic that was not discussed previously.
As such, we highly recommend you spend enough time to choose a good topic for your ecology essay instead of picking the first subject suggested in Google. The first thing you should know about your potential topic is that it should be interesting to you because it will allow you to enjoy the writing process trying to discover new angles of your subject. Besides, being interested in your topic, you will be able to make it interesting for your target audience, which is your ultimate goal. What is more, a good topic will allow you to make up a good hook that will engage your reader from the very first lines. Below, you will find a list of topics that are fresh and creative at the moment of writing. However, we cannot guarantee that they will remain that interesting by the time you study them. Therefore, if you are looking for unique and interesting ecology topics, we highly recommend you to get in touch with us. Our talented and experienced writers will do their best to provide you with marvelous ecology essay ideas.