Any researcher or entrepreneur who ever tried to find financial support for one of their projects knows how important it is to come up with a decent grant proposal. If written properly, this kind of paper can guarantee the investors' interest in the presented ideas and the overall success of the project. Therefore, it is crucial to know how to write a grant proposal.
Calculate your essay price
What Is It All About?
So what is a grant proposal? This kind of writing can be defined as an application for a program with the perspective of winning a grant. Obviously, all the applicants have their own unique ideas that require certain amounts of money for their implementation, and grant programs are a perfect way to win the needed money.
While the participants clearly benefit from grant programs, there is also a number of advantages that such programs bring to the organizers. The grantees have an opportunity to discover new talents who can be hired, get inspiration for some innovations, and reaffirm the company's mission by supporting the young enthusiasts.
Since both the grantees and the applicants are interested in the grant programs, it is a win-win situation, and it is unreasonable to lose a chance like that. If you have an idea that you find meaningful and useful, applying to a grant program with it is the least you can do. Needless to say, writing a grant proposal should be taken very seriously, because if you do everything right, the chances are you will get the required funds to do the research of your dream or open a successful business.
The first thing that should be considered is getting all the parts of a grant proposal together and developing each of them separately. Although the structure of this document may vary depending on the company's requirements, there are some basic elements that should be present in every grant proposal. They include:
Abstract. The first thing the committee will see is your abstract, so it is a sort of business card that presents your whole application. It should be brief, informative, well-structured, and free of any unnecessary details.
Key problem. Every project is built upon solving some kind of problem and suggesting some effective solutions. This part of your paper should focus on the main problem your project will attempt to address, providing its context and describing what is happening in the given sphere now. You need to show that you know what you are dealing with and that you possess all the information required to handle the issue properly.
Project description. In this section, you need to show how you will arrange all the stages of your project. Discuss its practical side and all the activities involved in it. It is advisory to demonstrate a consecutive plan of actions aimed at solving the established central problem.
Goals. An effective proposal always sets clear goals that are measurable and definite. The ability to list the specific results expected from the project shows the author's critical thinking and ability to structure the plan well. Make sure to discuss both the short-term and long-term goals that your project will reach.
Plan of action. This part is crucial for any grant proposal format, as it shows how exactly the planned activities will be organized. You need to mention all the people and organizations involved and show how they will take part in your project's implementation.
Control tools. One of the sections in a typical grant proposal outline is the one describing the techniques and tools that will be applied to control the course of actions and ensure the best results.
Budget. Any investor or granting organization must have a clear picture of how much money exactly your project will require, so make sure to include a detailed budget description in your proposal. Divide the needed amount of money into sections and describe each of them, showing how you will manage the finances.
Writing a Grant Proposal: Your Lucky Ticket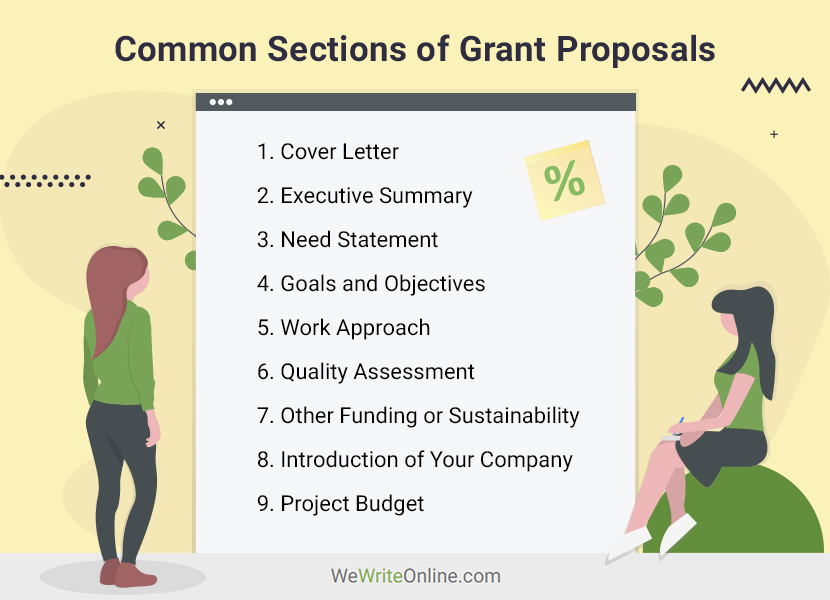 Cover Letter
One of the documents that are usually attached to grant proposals is a cover letter from the applicant. Many think that it is a sheer formality and does not play a great role in the project's success, but in fact, this piece of writing is very significant. It adds individuality to your application and allows you to express how passionate you are about your project. In a cover letter, you can tell why the chosen to grant proposal ideas are important to you, why you believe in them. You can link the proposal to your personal philosophy and mission.
Executive Summary
Another section is the executive summary. It is short and serves the purpose of briefly presenting the content of the proposal. It is worth mentioning that before reading the entire paper, the members of the committee read the executive summary, and if this part of the work is poorly written or lacks consistency, they may not read the rest of the application at all. Needless to say, this piece of writing deserves your special attention. Make it informative, concise, and clear for the readers. And most importantly, make it engaging.
Need Statement
Before going on about how your idea can be implemented, you need to speak numbers and tell specifically how much money you need the investor to provide to you. The important detail here is to make sure that your writing is easy to comprehend for everyone who sees it for the first time. Imagine you are new to your sphere and do not know all the terminology and specificities involved. Would your need statement be easy for you to understand? If not, then revise this section and clarify certain aspects.
Goals and Objectives
Any grant proposal guide stresses the importance of stating the objectives of your project clearly. You need to explain why your idea is important, who will benefit from it, and how it will impact the current situation in the chosen field. Remember that you need to convince your audience and make the grant-giving company believe that your application is truly useful and significant.
Work Approach
Naturally, your application has to demonstrate what steps you will take in order to achieve the established goals. You need to describe what exactly you will do, how much time it will take, and what procedures and actions will be applied in the process. All the additional materials, such as graphs, illustrations, figures, etc. can be included in this section.
Quality Assessment
Starting a project is never enough: handling it properly along the way is what really matters. Thus, one of your major tasks is to show the investor that you know how to ensure effective task management throughout the whole process. To do this, describe the procedures you are planning to apply for controlling the quality of work continuously. Remember that the quality of performance has to be measurable, so discuss the parameters that you are going to monitor and the indicators that will show the progress.
Other Funding or Sustainability
You need to mention all the sources of funding that your project is using. Moreover, in addition to listing the companies or investors that have already agreed to provide material help, you also need to mention those whose reply you are expecting, which means all the applications you have sent out. Besides, it is important to consider the non-material sorts of support that your project requires, such as providing locations, the use of equipment, arrangements for interviews, etc.
Introduction of Your Company
Even the most attractive project will not get funded unless it is represented by a reputable company with a clear philosophy and decent values. Therefore, one of the key elements of every grant proposal is the presentation of the organization that is applying for the grant. Write a small introduction of your company where you give a general idea about its functioning, its scale, and field of work. Then, list the main principles and ethical pillars of your organization's work.
Project Budget
Provide a detailed and transparent calculation of all the costs involved in your future project. It is better to use a table or a visual representation for this section.
Grant rules in different spheres
Depending on the field the project refers to, the proposal may vary in content and style. Knowing how to write a grant proposal for each of the fields will boost your chances of success. Find a couple of tips for different industries provided below.
Grant Proposal for Science
In this kind of proposal, your main goal is to show how your research fits into the existing context of the topic and how it will contribute to the development of the study. To make your paper more convincing, support it with accurate information and related data that will demonstrate your knowledge and ability to operate the materials well. In addition, refer to the credible sources of literature.
Grant Proposal for Education
If you are trying to win a grant for an educational project, make sure to demonstrate how the local community will benefit from your idea. Show the measurable data and statistics to prove that there is indeed a need for your educational innovations at the moment.
Grant Proposal for Art
Art grants are very specific and differ from all other industries. One of the key features here is originality, and it may help you to attract the committee's attention and make your project stand out. However, even though the creative approach is welcomed in such grant-giving companies, great attention is paid to the applicant's accuracy and consecutiveness. The jury has to see that you can handle a big project and manage the funds properly. To prove this, provide clear deadlines and explanations of the work process. Since art production is almost always versatile and linked to the artist's inspiration, it is especially important to show the committee that you know how to organize the process and make it more structured.
All our tips and suggestions will make your writing process easier, but if you decide to get professional assistance with your proposal, WeWriteOnline.com is always at your service!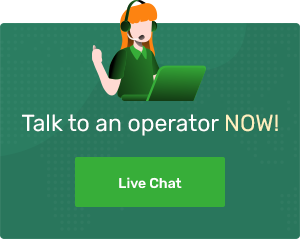 How We Work
Step 1. You provide us the most detailed instructions for the paper you need, specifying its deadline, format, number of pages, etc.
Step 2. Our team studies your instructions and finds a writer who has the qualifications required to do your assignment.
Step 3. The writer is assigned to your order and starts working on it.
Step 4. You contact your writer directly through the messaging system in the order.
Step 5. Once the writer completes the paper, we proofread, edit and format it, making sure it is flawless.
Step 6. At the deadline, you receive your paper and email notification about it.
Step 7. You read your paper and make sure it has everything you expected. In case anything needs to be rearranged or corrected, we will revise your paper for free within 48 hours after the main order deadline.