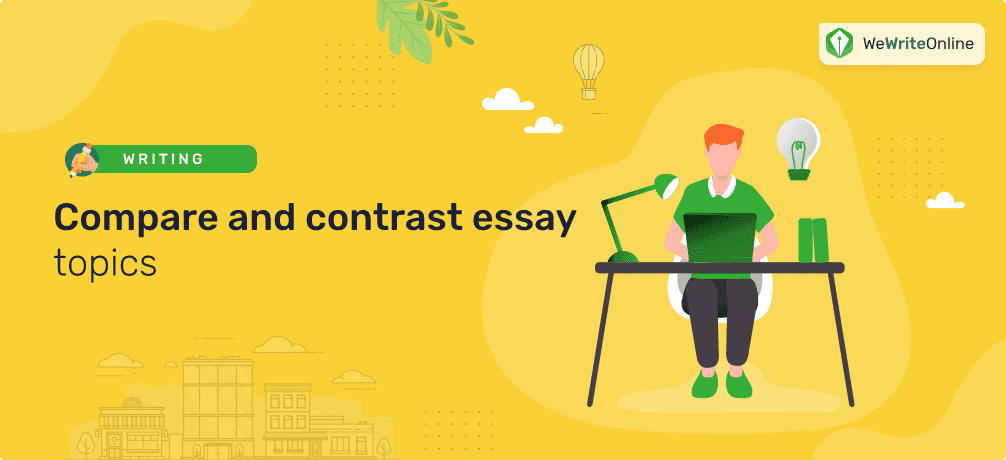 A compare and contrast essay is one of the favorite tasks for many students because they leave enough room for creativity. As the name suggests, a compare and contrast essay requires a comparative analysis of two or more people, subjects, issues, policies, etc. based on their similarities and differences. As such, instead of analyzing a specific issue from different perspectives, the writer should draw parallels between two or more specific subjects. The best essays are written on interesting and appealing compare and contrast essay topics. Of course, a good topic for a compare and contrast essay is not easy to find, though it is possible. If you have some difficulties with picking up a subject for your essay, you should keep reading our guide and you will find not only many helpful tips and suggestions but also a list of compare and contrast topics that will help you boost your writing inspiration.
Writing a Compare and Contrast Essay: Helpful Tips
Before you start working on your essay, you need to understand what subjects you want to compare. Ideally, your topic should be relevant to your discipline and engaging to your reader. You cannot pick up the subjects that are different. It means that you cannot compare food to music. The subjects for comparison should have some common characteristics, which will help you write a well-structured analysis. For example, you can compare and contrast two composers, two historical events, two literary works, two tourist destinations, etc. If your teacher allowed you to choose the topic, you need to pick up the subjects that fit your interests because this strategy will help you overcome the lack of motivation and enjoy the writing process. To impress your teacher by a professional approach to work, you need to make your essay organized in the logical order and make it full of fresh ideas. If you want to organize the writing process well, you need to write an outline that will include the key points you would like to discuss in your paper.
How to Choose Great Compare and Contrast Essay Topics?
So, how to choose a good topic? Does it take much time? Well, the more time you spend on choosing a good subject for your paper, the higher chances are that you will get a good grade for it. So, what topics are appropriate for writing a comparison essay?
Relevant. Speaking about the outdated or irrelevant things, you will never attract the attention of your reader. To assess your paper with the highest mark, your teacher should see a truly creative and interesting paper written on the topic that is popular nowadays. For example, you may compare and contrast two Presidents, two military conflicts, two approaches for solving the specific problem, two famous bloggers, etc. If you are a proficient writer, you will be able to find writing inspiration everywhere including the Internet, newspapers, expert opinions, etc.;
Interesting. Your audience should enjoy when reading your essay. As such, you need to pick up the topic that will help you meet their demands. Before you start working on your essay, make sure to put yourself in the shoes of your reader;
Informative. When searching for a topic for your compare and contrast essay, you need to make sure there is enough information. Pay attention that you need to work with the up-to-date, credible, and relevant academic sources.
Have a Look at Our Compare and Contrast Essay Topics
Have you got stuck on choosing a good topic for your essay? Let us provide you with our collection of interesting compare and contrast essay ideas that will definitely help you understand what subjects you would like to discuss in your paper.
Good Compare and Contrast Topics
What are the main differences between good and bad teachers?
Being healthy or being wealthy. Explain your choice;
Private colleges vs. public ones;
Compare Italy and France based on their political structure;
Full freedom or strict parental control. What strategy is better?
Britney Spears or Christina Aguilera?
Do you prefer to wake up early or wake up late? Explain your choice;
Compare a book and a movie based on this book. Which one is better?
Instagram or Facebook. Which platform is more attractive to you? Why?
Compare and contrast of male friendship and female friendship;
Compare and contrast the policies of Donald Trump and Joe Biden;
Apple and Samsung. Discuss the advantages of each company;
Are you an extravert or an introvert?
Compare and contrast Facebook and Twitter based on the age of their target audience;
Compare and contrast two of your favorite movies.
Art and Movies Topics
A comparison and contrast of portraying men and women in Picasso's works;
A sitcom or a soap opera. What would you choose? Explain your choice;
Discuss the role of Celine Dion or Madonna in the music industry;
DC or Marvel?
Compare and contrast the description of vampires and werewolves in the world literature.
Psychology Topics
Compare and contrast down syndrome and autism;
Depression and anxiety. Focus on the key similarities of these disorders;
Bulimia and anorexia nervosa: which one is more dangerous?
Homicide or suicide. A comparison and contrast essay;
Illusive dreams and hallucinations.
Literature Topics
Discuss the key similarities and differences between the American and European literature in the 20th century;
Explain how women and men were displayed in the books of the 18th century;
Discuss the Ancient Greek and Ancient Roman literature;
Discuss the similarities and differences between fiction and non-fiction books;
Dealing with the self-struggle in Hamlet and Macbeth.
Religion Topics
Protestantism vs. Catholicism;
Compare and contrast Ancient Roman and Ancient Greek religions;
A compare and contrast of Judaism before and after Jesus Christ;
Compare and contrast Buddhism and Islam;
Athena vs. Isis.
Scientific Topics
Fossil energy against the renewable one;
Tornadoes vs. hurricanes;
Physics or chemistry? Which science is more important?
Are you for or against space exploration?
Social Media and IT Topics
Traditional jobs vs. online jobs;
IOS vs. Windows: a compare and contrast analysis;
Social media sharing: Instagram or Facebook?
Tablets or desktop computers?
A comparison and contrast of writing traditional letters to writing e-mails;
Ice Bucket Challenge or 10 Years Challenge?
Anthropology, History, and Politics Topics
Hammurabi's code vs. Confucius' teachings;
Compare different approaches to the study of the Vietnam war;
World War 1 vs. World War 2;
Reality vs. fiction in Greek mythology;
Japanese lifestyle before and after World War 2.
Funny Compare and Contrast Essay Topics
Rihanna or Beyoncé?
Star Wars or Star Trek?
Friends vs. The Big Bang Theory.
Pet cats vs. pet dogs;
Oprah or Ellen?
Have a Topic for a Compare and Contrast Essay but Still Need Professional Help?
If your compare and contrast essay is too difficult to write, you can always contact our writing service and ask for help. For many years, we have been assisting our customers in reaching their desired academic goals. Getting professional writing help, you will be able to relax and forget about your academic problems. Our team consists of skilled writers, editors, and proofreaders, who are able to tackle the most sophisticated projects. Even if your deadline is pretty tight, we will be able to provide you with the amazing masterpiece within the deadline specified. Our writers are very good at time-management, which helps them meet the tightest deadlines set by our customers.
Purchasing a compare and contrast essay at WeWriteOnline.com, you can be sure that it will be absolutely free from plagiarism. First, our writers create them from scratch meeting the instructions of the clients. Second, we check all papers through the reliable plagiarism checkers, which allow us to ensure uniqueness of every single paper. What is more, you can be certain that your essay will be absolutely free from any mechanical flaws since it will be checked by a professional quality assurance manager. So, if you got stuck on writing your compare and contrast essay and your deadline is getting closer, just give us a call and we will give you a helping hand!