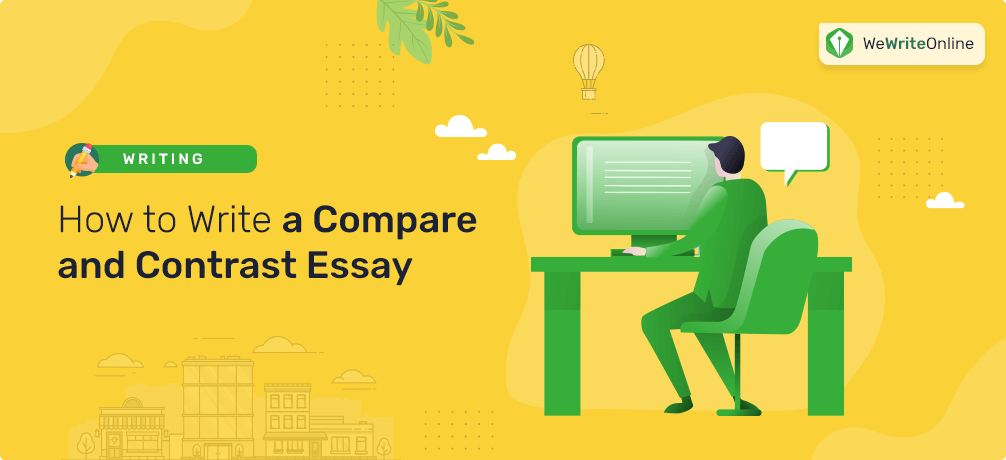 What Is a Compare and Contrast Essay?
Basically, this essay aims to show the essential similarities and differences between two or more subjects. These subjects should be different but fall into the same category. For example, you may write a compare and contrast paper on two popular musicians, touristic destinations, literary works, etc. If writing compare and contrast essays seem too challenging for you, our article will provide you with all the necessary answers.
The process of writing a compare and contrast essay involves identifying new links or differences between two items. "New" is the key or operative word in this task.
Select two items that might fit in the one category but also have a number of differences. The following are a few good options:
Painting and singing (both of these are forms of art but are different in several ways)
Football and basketball (both of these are sports but are different in several ways)
Dogs and horses (both of these are animals but are different in several ways).
Make a note of the characteristics or features of each item to generate some essay ideas. Make a note of the similarities and differences.
Before beginning to write your draft, here are a few essential questions you should ask of yourself:
Does your tutor want you to both compare and contrast the items or are you required to do just one of these tasks?
Are the two items you are looking at different and/or similar in at least one way?
Do you know a sufficient amount about your topic for you to be able to write a good compare and contrast essay on it?
Do You Need to Compare and Contrast or is Only One of these Tasks Required?
Sometimes, a tutor may prefer you to write only about the similarities in two items, while other tutors may require you to look at the differences. In either case, it is important to ensure your tutor's requirements are reflected in your thesis statement. Say, for instance, your essay topic relates to social media websites, the thesis statements you write may need to be different depending on your assignment's instructions.
Here is an example of a thesis statement for contrast only essay: "As far as social media websites are concerned, MySpace is more focused on allowing you to demonstrate your own personalized style while Facebook is good for discussing daily life with other users."
Here is an example of a thesis statement for a compare and contrast essay: While it is possible to meet other people who share the same interests as you on both MySpace and Facebook, it is only possible to showcase your own personalized style on MySpace.
Do You Need to Compare two Items that are Alike and/or Different in at Least One Important Way?
To write a good compare and contrast essay, you should avoid writing about similarities and differences that are obvious, e.g., "everyone knows that there are more players on a football team than on a basketball team" or "everyone knows that cats are much smaller than horses."
Talk About Something that Readers Do Not Know or May Not Notice!
A better approach would be to talk about how cats and horses are both sensitive to human feelings or that a basketball player requires more versatility than a football player who needs to focus more on teamwork.
To ensure your compare and contrast essay is successful, you need not be particularly clever. The process simply involves looking at mundane things in a fresh or more innovative way.
Do you know your topic sufficiently well to write a good compare and contrast essay?
Unless some research work is specifically requested for your essay project, select two items that you feel confident or comfortable about discussing in detail.
A tutor can sometimes ask you to identify several likenesses and differences. So, before you begin, be prepared to craft a meaningful and fully-developed essay on a topic you are very familiar with.
How to Organize Your Compare Contrast Essay
Essentially, there are two key methods for organizing an essay of the compare and contrast variety:
The piecing method means providing pieces of information about each item in individual paragraphs i.e. organizing your information according to a topic.
The chunking method involves putting all information for each item in one block or chunk. Then select the similarities and use them as transitions.
Examples of Compare and Contrast Essay
Need Professional Help with Writing Compare and Contrast Essays? Give Us a Call Today!
If you are searching for a writing platform offering expert assistance with different compare contrast essay topics, then you are just in the right place. We assure you that the writers working at WeWriteOnline.com can easily cope with any compare and contrast essay format or subject as they have vast experience in creating amazing compare and contrast papers. By asking us "I need your help with writing compare and contrast essays" you can relax knowing that we will handle your assignment at the highest level. Becoming a customer at WeWriteOnline.com, you will get access to a number of great benefits including:
Unique content of your paper;
On-time delivery;
Free revisions within the first 48 hours after the order delivery;
Fair money-back guarantee;
Total confidentiality;
Only native English speakers;
Other guarantees.
As a legit writing service, we never plagiarize. Our writers know that the paper should be always written from scratch according to the customer's prompt. What is more, we will scan your text through several plagiarism checkers in order to ensure that you will get an absolutely original paper. One more guarantee that makes the number of our returning customers grow is our customized approach. As such, when working on your compare and contrast essay example, your writer will consider all your comments. Even more, you will be able to communicate with your writer in the system. For instance, you may provide him or her with the compare and contrast essay outline and ask to follow it. Free communication is the guarantee that makes our service better than our competitors. If you have any inquiries about our work, you can always contact our support representatives and they will gladly answer all your questions. Buying your essay at our contrast essay writing service, you can be sure that it will be delivered to your personal profile within the deadline specified. Even if your deadline is pretty urgent, you will get your paper on time because timely delivery is one of the three whales of our work. If you feel that your paper does not fully meet the instruction given, you are free to ask for a revision and the requested corrections will be made immediately.
Don't Know How to Write a Compare and Contrast Essay? Buy It Here!
Calculate your essay price
If you know that writing compare and contrast essays are not your forte, you should not waste your time but hurry up to place your order at WeWriteOnline.com. Paying attention to the needs of our customers, we maximally simplified the ordering procedure. As such, the only thing you need to do to get a well-written essay is to provide us with the detailed instructions of your assignment and pay for your essay. When the deadline expires, you will find a brilliant paper in your personal profile.
So, what are you waiting for? Today, you have a wonderful opportunity to improve your academic reputation in just a few clicks of your mouse. So, use your chance!