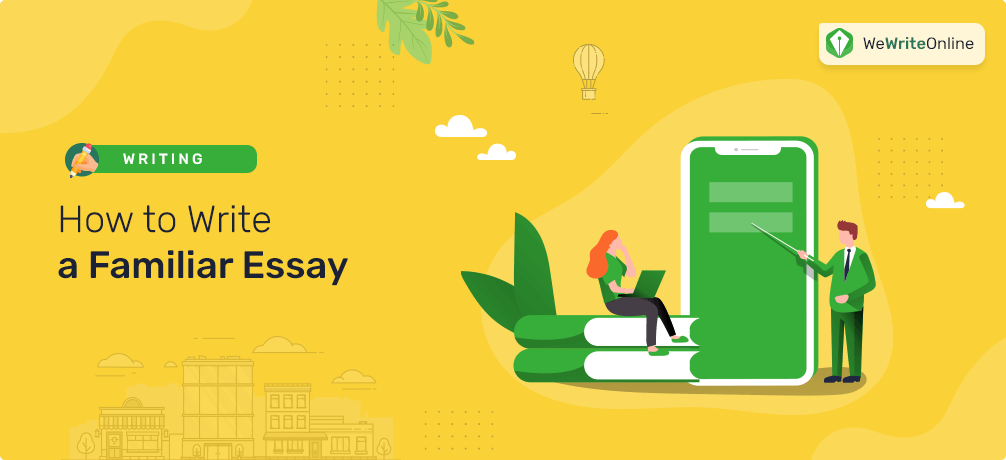 Usually secondary and high school students know nothing about familiar essays because it is considered as a challenging assignment. A familiar essay is focused on one's own reflection and exploration of a topic such as "Deceiving Oneself" or "Giving Advice".
What is a Familiar Essay?
Let us define a familiar essay. A familiar essay is a type of nonfiction short story writing in which the author shares a life experience and uses a personal or voice unique to themselves. It is known for being written in an informal manner.
Popular Classic Familiar Essays
Death of a Pig, by E.B. White
An Apology for Idlers, by Robert Louis Stevenson
A Piece of Chalk, by G. K.Chesterton
The Indian Jugglers, by William Hazlitt
Getting Up on Cold Mornings, by Leigh Hunt
Imperfect Sympathies, by Charles Lamb
How to Write a Familiar Essay
The familiar essay uses a unique literary device that involves addressing the reader directly as if they were an acquaintance. When executed properly, this keeps the audience interested and engaged as they read the story. As you begin to define a familiar essay writing process, think about how you can frame the narrative in a way that takes into account the needs of the reader. Using the first-person can be effective, although you should first ask your instructor if it is permitted for the assignment.
The good news when it comes to writing a familiar essay is that it is a far easier assignment than a research paper or most other academic work. Rather than requiring you to seek out sources or read up on a topic, all you really have to do is use your imagination. Of course, coming up with familiar essay topics that the reader would find interesting can be a challenge. In addition, if you lack creativity or the ability to find colorful ways to express yourself, you might struggle with this paper. One way to get started is to think about a passion in your life or a memorable event that you think would make for an interesting narrative. Usually casual slang – typically frowned upon in conventional academic writing – is perfectly acceptable. If you can get the reader to laugh or even cry, you have accomplished your goals.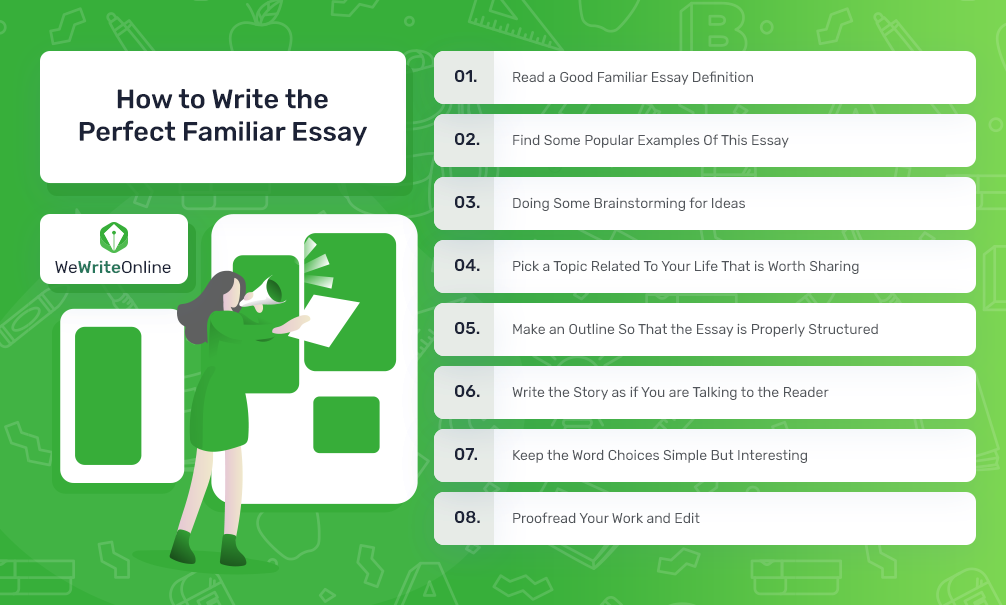 Audience and Tone of Writing
While writing a familiar essay, imagine that your audience is one person only. Your reader is educated enough to understand the topic and there is no need to prove additional clarifications or explanations. Think that your audience is enthusiastic to hear your opinion on the topic. You can even interact with the reader by using personal pronouns.
Make a Plan
Even if a familiar essay refers to personal writing, you still need to organize your ideas before writing. You can begin with freewriting and create a paper with all ideas that appear in your mind during several minutes. Do not worry about the content. You will extract the most valuable and significant ideas for your outline, which will further transform into a real essay.
Writing a Familiar Essay
Now it is time to use your outline and create the essay itself. Do not underestimate the importance of creating an outline and following it during the writing stage. Since familiar essays are deeply personal in their nature, students often go off the track and forget about the initial topics they tried to address. One of the easiest ways to write a familiar essay is to produce it at once (in one session). It will help you not to lose the focus.
Usage of Sources
Most of the teachers ask students not to use any references in familiar essays. However, please read carefully your instructions to be sure. If allowed, you can rely on the quote of a famous philosopher to prove your point. However, there is no need to introduce an outside argument because the focus of discussion should be your personal reflection.
Revise Your Paper
Always re-read your familiar essay before submission and revise its content. The reader should have a clear understanding of your personal standpoint. You should check the tone and style of writing. Be sure to get rid of all stylistic inconsistencies. For example, if you begin your essay with an enthusiastic tone, the same should be seen in the concluding paragraph. Check your paper for unity and coherence as well.
High Quality Academic Help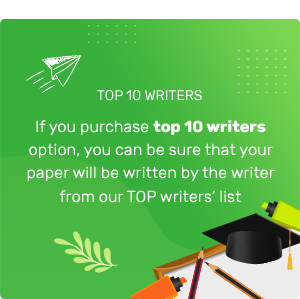 Although the familiar essay does not involve doing outside research or collecting data, it is nonetheless a difficult paper if you have trouble expressing your ideas in an entertaining way. Fortunately, when you are feeling stuck you can always buy a familiar essay from the experts at WeWriteOnline.com!
Buy Custom Essay Papers
Sometimes downloading an example of a familiar essay just will not cut it, especially when your own paper has to reflect on aspects of your life. This is why ordering a high quality custom familiar essay is the perfect solution. But where should you shop for paper? With so many writing services to choose from, it is not always easy to know which one is right for you. Here are a few traits that a reputable writing service should always possess:
The company has developed a solid reputation for creating high quality content and has a high review score.
The company does not merely send you the same familiar essay examples that they give to all their clients, they provide custom work that cannot be found anywhere else.
The company understands the importance of keeping their prices low so that their services are accessible to all students.
The company delivers their work by the deadline, even on the tightest of time frames.
When you look at the custom writing company websites, you will find that many of them are poorly written; containing grammar mistakes and typos. If they cannot even get their webpages right, how can they be expected to deliver an essay that gets you an A? Other websites look perfectly fine, but that also is not an automatic sign that they are reputable. Ultimately, it is important to choose the company carefully.
We at WeWriteOnline.com are the company that you can trust. Whether you need a familiar essay, movie review or even a dissertation, we have talented writers to handle all of your academic and professional needs. Every paper that we produce is original and follows your instructions to the letter. You are free to provide us some information about yourself that your writer will then craft into an entertaining, beautifully written familiar essay that keeps the reader's attention. Alternatively, you can send us the general requirements of the assignment and we will use our creativity and imagination to do the rest! They will craft a purposeful, coherent story that leaves the audience feeling satisfied. Of course, the ultimate judge (your instructor) is sure to give it a high grade.
You never have to worry about plagiarism either. We scan all of our papers through the latest in plagiarism detection technology, guaranteeing one-of-a-kind work that you cannot find anywhere else. We also understand the importance of receiving your assignments on time. After all, receiving an amazing essay does you no good if your professor is not willing to accept it late.
Free Features
Free revision (within 2 days)
Free title page
Free bibliography
Free outline (on request)
Free email delivery
Free formatting
We Guarantee
Quality research and writing
BA, MA and PhD degree writers
100% confidentiality
No hidden charges
Never resold works
100% authenticity
24/7/365 Customer Support
Paper Format
12pt. Times New Roman
Double/Single-spaced papers
1inch margins
Any citation style
Fully referenced papers
Up-to-date sources
So when you are looking for the best familiar essay that meets all of your needs and boosts your grades, there is only one place to turn: WeWriteOnline.com. Our services are affordable and always delivered by the due date. So make the right decision and place your order today!