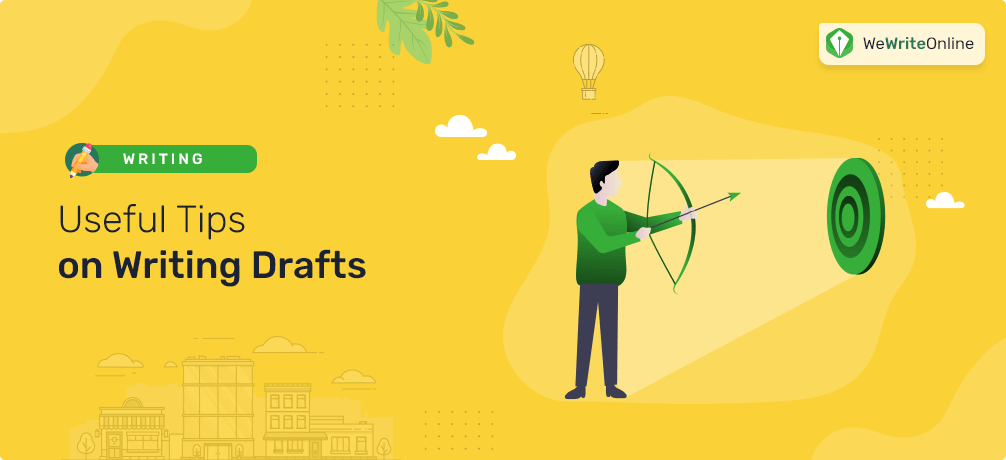 What are drafts? It can be convenient to think there are two main stages to any writing task i.e. the first or initial draft and the end product. This misconception is often rooted in the structure of graduate-level seminars and advanced-level courses for undergraduates. There is a draft paper and there is a term paper. In truth, a final term paper draft is not the "finished" product. It is simply the last stage of a particular project within the confines of a given term or semester. You should put your best possible effort into writing about the topic at this stage, which is not to say that the project must be continued … just that it could be continued.
A lot of people find it difficult to understand that this same principle applies to a first or initial draft. A first draft should be representative of your best endeavors when writing about a particular topic up to the point where you submit it. This makes it easier for readers to provide constructive feedback so that you can make further improvements to your paper.
Almost every faculty has its own view on "raw" work and to what point they are willing to read and comment on it. This applies regardless of whether it is a term paper or a chapter from a dissertation. The following are a few points to keep in mind:
Drafts are like a single chapter or an entire paper in terms of their structure. They are not outlines or sets of questions you intend to address in a paper. Neither are they compilations of research materials or notes, nor sets of confused thoughts and unconnected reflections. They have thesis statements and they present arguments in support of those statements. They are written as prose, complete with fully developed sentences and entire paragraphs.
In drafts, the writer can highlight any points they need or would like help with, but they cannot ask readers to do their thinking. Writing a comment or note is perfectly acceptable, e.g., "I do not know if this is the right place for this quote" or "I am not entirely sure if this is the best way to write my conclusion." However, it is not acceptable to put the following type of note: "How should I say this?" Your readers should have something solid to go on. Additionally, if you request help too often, you could again be seen as asking or expecting your readers to do the work that you should be doing.
It is permissible for drafts to have a limited number of incomplete parts. Some sections can be left unfinished, parts of a draft can be left in the outline version, and some claims can be left unsupported. However, there should not be too many gaps like these and it is not reasonable to expect readers to help with these.
It is acceptable to leave references incomplete in drafts. A first draft need not have fully complete citations and references, but it should be clear what parts are your own writing and which are taken from other places. Moreover, it is recommended to get into the habit of consistently and correctly citing sources as you go along. This will help you avoid the tedious task of cleaning up later and it can prevent avoidable mistakes that could lead to accusations of plagiarism.
These pointers are not to say you should allow the quest for perfection to immobilize you. Here is a rule to abide by – submit your paper today if it is due today.
Key Points to Consider
Whereas an outline should help you understand WHAT to write, your first draft will enable you to find out HOW to write it. In the outline, you have your ideas listed, but in the rough draft, you need to shape them;
When writing a draft paper, it may happen that one idea will give birth to new memories, connections, and associations. If you want to write an impressive paper, you need to be maximally attentive to these sidetracks. You need to be maximally attentive keeping in mind that the most interesting and important ideas should appear in your paper. Including too many irrelevant or inappropriate details, you will probably fail your paper, which will lead to an unsatisfactory outcome. If you are wondering what drafts are there in writing, we would like to emphasize that your draft should be maximally detailed and informative;
When drafting your paper, you need to make notes in the margins as they will allow you not to skip the important details. Although many students consider this technique just a waste of time, we assure you that it will enable you to focus on the most meaningful information when writing first drafts in creative passes;
When you are done with writing a rough draft, we highly recommend you to put it away for a while. Focusing on your text all the time, you will probably overlook some spelling and grammatical flaws. Looking through your draft with fresh eyes, you will find it easier to understand how to improve it.
Final Checks
Proofreading is the final stage of the writing process. If you want to receive a good grade for your paper, you should not rely merely on automatic checkers but should edit your paper manually paying attention to every single inconsistency. When writing a draft paper, you need to do the following:
Check your grammar, punctuation, spelling, and formatting attentively;
Ask your friend to review your paper and let you know about the inconsistencies that can be found there;
Check if all the supplementary materials such as graphs, tables, diagrams, etc. are appropriate.
Are You Tired of Writing Drafts? Give Us a Call!
If you do not have enough time or writing proficiency for writing draft paper, do not hesitate to ask our professional writing service for assistance. The writers working at our platform are experienced in writing English writing process drafts of different complexity levels. Having advanced writing proficiency, they know what are drafts in writing. Buying your paper here, you can be certain that you will receive a premium quality document that will follow your instructions. Due to the professionalism of our experts, as well as our customer-centered policies, our company remains the leading provider of custom writing help. Choosing us as your writing provider, you may finally stop asking your friends "Who should I draft?" So, if you are willing to improve your academic results but you do not want to spend your time on boring tasks, just rely on our legit writing service and we won't disappoint you!