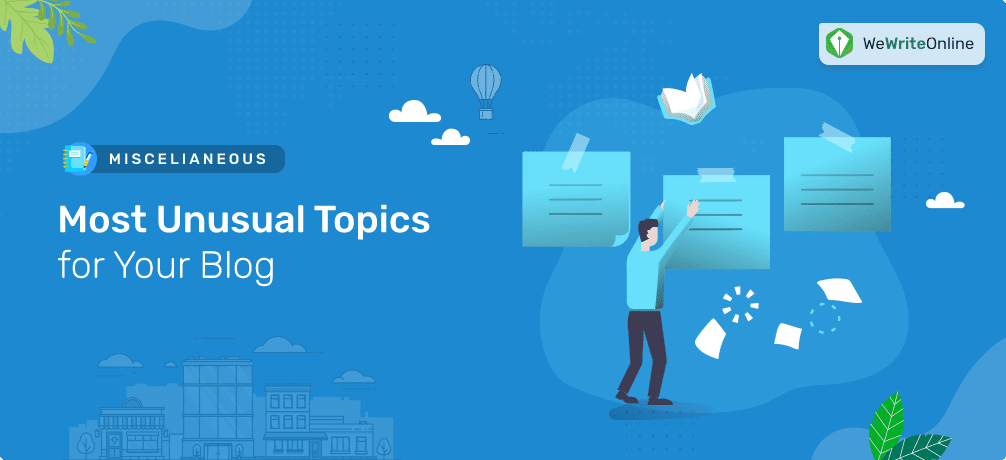 Check Out the Best Blog Post Ideas and Succeed with Your Blog!
Are you surfing through the web with the words "I need some topics to write about in my blog"? Well, in our handy guide, we are making an attempt to solve this puzzle once and for all. We assure you that our efficient tips and suggestions will allow you to gain more blog post ideas that will turn your blog into one of the best websites for your visitors. Before you start working on your content, you need to answer the following questions clearly:
Who is your target audience? (Knowing who is your reader, you will find it easier to guess what topics to cover in your blog);
Do you have any passions, interests, or talents that can be interesting for a certain group of people? Make sure to brainstorm your ideas as it will help you figure out how to match your writing with the needs of your target audience;
What goals you are going to achieve? Your blog can inform, educate, entertain, or do many other things. If you want to invent some interesting blog post ideas, you should clearly understand what are you going to do by your blog.
We highly recommend you not to skip these questions as they will help you understand what to write in your blog. To succeed with your blog, you should be able to create engaging, interesting, and compelling content on a regular basis. Below, you will find great article ideas that will serve as your source of inspiration.
List of the Most Unusual Topics for Your Blog
This article offers the most unique blog content ideas for those, who want to stand out! Our blog ideas are interesting, informative, and fun! Choose one of our 15 ideas for the unusual blog!
The Internet is full of various blog content ideas. In fact, it is possible to find the audience for all blog ideas including culinary art, home-schooling, self-development, wedding, traveling, etc. However, if you want to be the one-of-a-kind blogger that leads the weird blog and astonishes followers, you need to think carefully over the most mind-thrilling ideas for blog posts. Our blog ideas are a unique collection of original offers. You may use one of these ideas for blog posts keeping in mind that the topic should be familiar to you. You should be proficient at a theme you choose in order not to look like a dilettante. Here, you will find 15 newsworthy topics for the blog:
How to survive with the minimum budget? Here you can discuss the discounts from the stores and supermarkets, sales and promotional offers, free courses and classes, master classes, free samples, cheap tickets, free promotional packages of food, etc.

The laws and rules of natural parenting. In a particular blog, you can post the articles about natural childbirth, breastfeeding, common sleep, slings, reusable diapers, stages of development.

Urban farming (the peculiarities of setting a mini-farm at home, quail farms, ostrich farms, chicken farms, turkey farms).

Letters to famous people. It is possible to write even to those people, who lived in 17th century, to former Presidents, to movie-stars, famous singers and poets.

1000 life-hacks when you have twins and do not have a nanny. This blog can give a piece of advice on how to deal with twins. For instance, what to do when two of them are crying, or how to feed two hungry babies at a time, how to find time for yourself, clean your house, prepare food, change diapers etc.

Contest blog. In this blog, you can organize various types of contests and invite the readers to partake. For example, the contest for the worst post online, the contest for the worst beginning of the poem, the contest of the presidential campaign prognoses, etc.

Fail blog. Here you can present the collection of your fails. This blog isvery informative and useful for other people, who do not want to be the loser you are.

Mysterious blog. Blog, where you can post about mysterious, fascinating, and non-explainable things. For example, you can write about dinosaurs, or what would have happened if the person fell into a black hole.

The strangest weddings on our planet.

The weirdest crimes in history. Here you can write about the most sophisticated crimes, like Petit's tightrope walk between the Towers.

The blog of your childhood. Here you can post the photos of your childhood, your diaries, questionnaires you shared with your classmates, stories about your clothes and trips, about your memories and achievements.

The blog of the positive thoughts. In this blog you should publish only your positive thoughts, ideas and events. No negative words, and maybe even no "NO"s in your blog!

The blog of the most unusual bicycles. Bicycles are in fashion today. It is a healthy, green, and cheap means of transportation. However, is there anything special about bicycles? Yes, some people offer the hand-made wooden bicycles, some transform the usual bicycle into a cab for three, some change the view by fun coloring. The ideas are endless. And the weird blog about the interesting bike ideas will definitely attract many followers.

The blog of incompatible combinations. It is something about the salted sugar, non-alcoholic wine, silent sounds, colorless colors, and meat sushi.

Living without Internet, computer and smartphone. This idea sounds impossible for modern people. However, somewhere in Africa people do not have the Internet access, and they are still alive. The experiment of how the "digitalized" person will change the lifestyle would be interesting.
The blog content ideas should tell something about your personality. Choose the idea that fits you, and you will manage to create the most original blog with the weirdest and the most impressive content!
Content Marketing Blog Topic Ideas
How you are planning to develop your career? What personal traits and professional qualities will help you achieve your goals? Having the answers to these questions, your target audience will find it easier to understand your professional journey. Perhaps, your story would motivate your followers to change something in their lives, which is great;
Share interesting videos on your topic. For example, if you are a blogger, you may create a list of ten videos telling your audience about the secrets of blogging. Keep in mind that your goal is to show that you are passionate about your work motivating your followers to get interested in what you do;
Make a compilation of good blog posts that are focused on one topic. Providing your reader with some interesting posts, even if they are not written by you, you will keep their interest;
Provide your reader with information on what marketing topics turned out to be not as effective as others. It is always great to learn what strategies and techniques can give the best result. Studying your experience, your followers will try to avoid these mistakes in their work;
Make up a list of FAQs. Do your visitors ask you a lot of questions and some of these questions are constantly repeating? Creating a FAQ section on your blog is a great idea that will significantly economize your time spent on answering the questions;
Make sure to discuss the topics that are not closely related to your field. By doing so, you will show that you are a multi-faceted person interested in numerous fields;
Consider guest posting. Nowadays, it is hard to find a person, who would not know who is an influencer. If you manage to ask some influencer to share your post, you will significantly increase your audience because it will add authority to your blog;
Clearly state what makes your blog different from your competitors. In the present-day realms, when there are not so many truly original ideas, it is very important to keep your blog authentic. To convince your audience that your blog posts ideas are worth reading, you should inform them what makes your blog qualitatively different from your competitors;
Profile some of your customers. If your potential visitors notice your close interaction with your customers, they will be more than interested in cooperation with you;
Share the information about your traffic and sales. This topic may be interesting to many of your customers. Disclosing this data, you will turn your blog into a useful source of information;
Create a questionnaire with your employees. As for the importance of a well-developed blog in the marketing field, it should never be underestimated. If you show what your employees think about your company (if these answers are objective, of course), you will be able to make your target audience interested in what your company offers;
Explain how you are hiring new employees. Before your follower decides if your company is worth their attention, they would like to know what kind of people are working at your company.
Try Cooperation with the Best Blog Article Writing Service and You Will not Regret Your Choice!
If you find it too challenging to create high-quality blog content on a regular basis, you can always rely on our legit blog writing service and we will not disappoint you. In fact, cooperation with our writing platform will be one of the best decisions in your career since our blog writers specialize in diverse fields, thus they can create juicy masterpieces on various topics. Buying blog content at our writing service, you will receive engaging, interesting, and well-structured articles that will meet the needs of your target audience. So, if you want to make your blog informative and eye-catching, you should just place your order at our writing platform and we will not disappoint you.
If you lack interesting blog post ideas, do not waste your time and get in touch with the professional team working at our blog post writing service. Hard-working, diligent, and experienced, we will gladly assist you in reaching your goals.