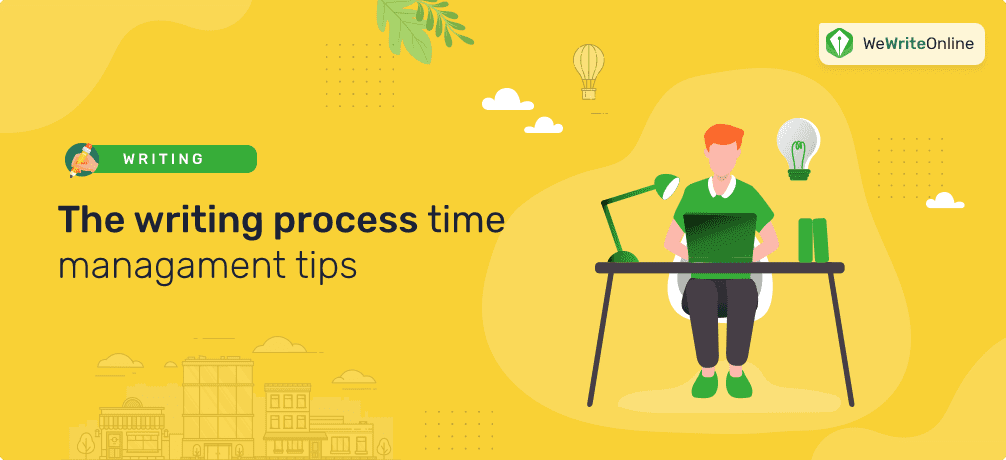 Tips from Professionals
When it comes to academic writing assignments and other writing tasks, many students are questioning themselves, "How can I make writing easier?". Many of them want to make the process as efficient as possible without wasting much time and energy. So, if you also want to find the answer to this question, check out the article below.
When we are talking about the writing process, we can divide it into two parts: where the first one takes your planning, organization, research, and reading, and the second one is the writing, indeed. There are some things that do help me to keep on track in my writing routine, and I definitely want to share them with you.
I know when I'm the most productive. I'm definitely not a night owl; I usually do most of my substantial work in the morning. My writing process is not an exception. Someone may be super productive at 6 a.m., while someone's productivity may reach the necessary level at 6 p.m., it works differently for everyone. You should simply identify your high-energy hours that's the best first step ever, believe me!
My writing routine
I'd say it goes about the special routine that you need to develop. This way you'll be more comfortable with both your writing and further things that need to be done. Before I take on my writing, I make my delicious coffee, turn off my phone, and put on my favorite slippers (these are the ones, I wear every time I sit to write). It has become the unbreakable ritual somehow, the amazing way this pair of slippers sets my writing mood. It sounds weird, I'd admit. This works for me and makes me productive and dedicated to writing, letting me feel focused and creative. Sometimes, I turn on soft music, which creates an amazing and nice atmosphere. I have my favorite playlists on YouTube channel, the ones that are made for writing. Believe if you be regular with your similar plan, it won't be troublesome to write anything within tight deadlines. Develop your routine, the one that will be the most pleasant and productive for you ever!
The first part, which is your planning, and organization
This part suggests that you are researching, outlining, and taking numerous notes. To tell the truth, I save myself from losing the main thought and overdoing crazy nonsense ideas by doing this. When you write a book, you don't know when the inspiration knocks on your door, do you? This part, which is aimed to organize and set a decent plan that you are constantly keeping, helps to be focused and maintain the main idea. Sometimes, the craziest thought ever may strike you in line in the supermarket or in the middle of the night. That is why you need this so-called "safety plan," as being organized, you are bound to succeed.
The second part: writing
When you take on your writing, the most critical moment is your start, which should be an unstoppable one. While exploring this broad range of messy ideas about the dialogues, themes, characters, and conflicts, you no way should stop. Let your brain creates everything right the way it flows, let your imagination free and don't set limits. Characters of the book are definitely the ones that are of a special significance, and surely, characters are the ninety-five percent of your work. Needless to say, how much time it might take to develop the characters the way they will be exciting to follow and sympathize with.
It should be a natural flow.
Even if it seems to you it won't work anyway and you are writing a total nonsense, keep writing because that's the way the best pages ever are written! Even if you are almost lost at your plot and you have no idea what you want to say, keep your fingers on the keyboard. No matter what it looks like: as a piece of a perfect writing ever or a nonsense, YOU are writing.
Forget high expectations .
The worst enemy is the pressure which you let yourself in by simply bounding yourself to high expectations. You really believe that even the most talented writer creates his/her masterpiece super polished and brilliant right away, do you? If you know anyone, let me see him/her. Because I don't believe that! Every great writer will edit and rewrite everything many times, so are you still worrying about your writing crap or mistakes? You should loosen up your high expectations and unneeded pressure.
Before you start writing your book, remember that the main goal is to reveal the readers your thoughts and meanwhile enjoy the whole writing routine.
Writing Process Steps
The tips for better writing provided below are aimed to help you make the writing process more efficient and well-organized. So, if you keep wondering, "How can I make writing easier?" be sure that you will find answers to your question.
Stage 1: Prewriting.
Sometimes it is considered as the easiest part of writing, but actually this is the step when you have to consider the topic in depth and decide what you will include:
Double-check whether you have understood the assignment properly. If needed, take a look at paper samples.
Pick a topic you are interested in. Make sure it is not to broad: if needed, please narrow it down.
Keep in mind your target audience. The style of writing and the choice of vocabulary should be comprehensible to who reads your paper.
Brainstorm ideas pertaining to the subject area.
Stage 2: Research process
Search for media where you can extract information from.
Conduct your research. Make sure you use both primary and secondary sources that come from credible and reliable media.
Compose an outline to make the research better organized.
Stage 3: Provide a draft of your paper
WRITE
Organize the information gathered during the former stage. Paraphrase it in your own words.
SUMMARY
Organize the information into sentences and paragraphs even if they do not seem perfect for you.
Look back at what you have written, check whether it is clear what you mean, and then ask yourself, "How to write better the ideas provided?"
STATEMENTS
Add some more information. Extend the sentences you have.
Read them once again.
Add more sentences to make the ideas clear.
Read what you have written again.
Think of whether you have provided all the details that you wanted.
Stage 4: Revision
IMPROVE YOUR WRITING
Read the paper that you have written by paying attention to the content and its organization.
If needed, readjust sentence structures, paragraphs, phrases or words.
Add or delete parts if needed.
If some additional research is needed, do not hesitate to find some extra information.
Replace any confusing or difficult words.
Read the writing from beginning to end again to make sure the organization of ideas is smooth and logical.
Stage 5: Editing and proofreading
MAKE YOUR PIECE OF WRITING CORRECT
Double-check whether all sentences are full and complete.
How to write better? – Try to eliminate capitalization, spelling, and punctuation mistakes.
Replace words or terms that are confusing or not clear.
Be sure to use the required formatting and citation style.
Get Help from a Professional Editor to Fix Your Paper
If you wonder, "How can I make my writing faster?" be sure that you can address an expert writing service for help and hire a professional writer and a proofreader to improve your paper. Our company's editors will carefully read your paper and will be able to fix any content-related mistakes as well as grammatical, punctuation, and spelling flaws.
When a student wonders how can I make writing easier, he/ she usually starts relying on online spell-checkers for help. However, in essence, good spell-checkers cannot be free or cheap. On our part, our company provides offline help with proofreading and editing, where highly-skilled professionals with advanced level of grammar and style work thoroughly in order to improve your paper and make it smooth and logical.
Our company provides service from native-speaking proofreaders and editors, which means that they have sufficient knowledge and skills to cope with papers of any complexity and academic level. Besides, when hiring specialists to work on our team, we pay attention to their experience in order to ensure that your papers are properly written and delivered according to the deadline.
The abovementioned advantages of our top-quality editing service are strong and persuasive enough for any person to make their choice when they are seeking for some paper proofreading service. Besides, we can assure you that our company can help with writing academic papers from scratch.