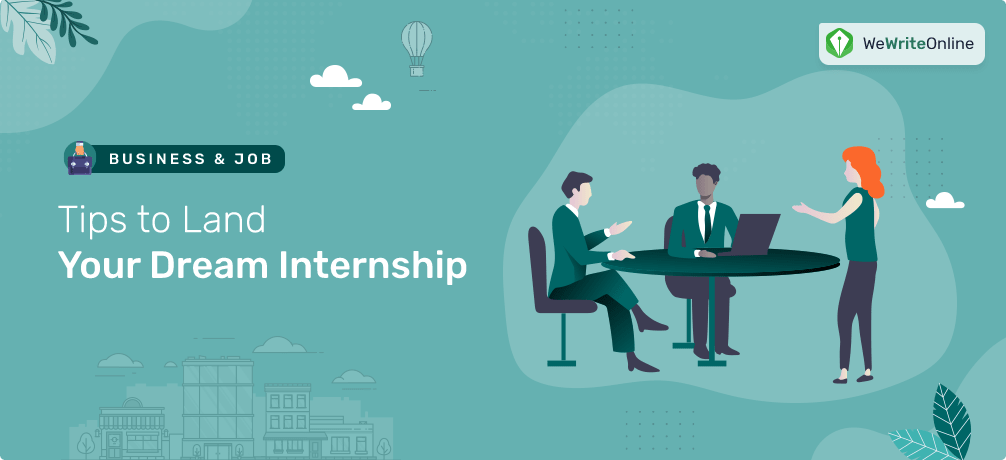 If you are a college student, then you probably know that in order to build a successful career in your target field, you will need to try yourself in some internship. The internship should show your potential employer that you are capable of performing the necessary duties and responsibilities. Unfortunately, not all students know how to succeed with internships. If you are one of them, our guide will provide you with a couple of helpful tips for getting an internship that will enable you to pursue your career goals.
As a graduate student, you probably understand that an internship job is vital for your future career. These days, the vast majority of employers seek experienced and skilled employees. Thus, the more impressive your CV is, the more chances you have to get your dream job. If you happen to be one of those who struggle with their internship search, the following pieces of advice will make it easier for you.
Steps towards Getting a Dream Internship
Do Preparation Work

First of all, make it clear for yourself at which specific company you'd like to have your internship and possibly work as an employee in the future. Do research on the company's values, attitude towards employees and so on. In case there are some significant drawbacks, it's better to be aware of them beforehand.

Go to the Career Center

You can get a great deal of helpful information from people who work at the Career Center. You can reach them if you need some help in enhancing your resume, finding internship opportunities, or something like that. If you find it really difficult to get an internship job on your own, the Career Center's staff will gladly offer their guidance to you.

Contact Important People

It would be really useful to get in touch with people who play important role in the company you want to work for. Send them an email or a message in a social network like LinkedIn. Make sure not to be too straightforward: don't ask for an internship in your very first letter. Instead, tell them you would like to work in the same area they do and ask them to share their experience of becoming a successful professional.

Make a list of employers

If you are not certain what program to choose for your internship, you need to write down a list of five or more potential employers and collect all the necessary information about them. It is also a great idea to check social media accounts as they will provide you with useful information that may influence your choice.

Get prepared

The next step involves preparing your application materials. In fact, good preparation is one of the most important internship tips for college students. No matter what position you are applying to, you will need to collect all the materials that may be helpful for your potential employer. As for the documents you will need to prepare, they are as follows:

Resume

A resume is a brief document that aims to showcase the skills, achievements, and qualifications of the applicant. Typically, a resume includes the applicant's name and personal information. If you have never written resumes, you will need to look for the well-written samples available on the web. Below, you will find a few helpful tips that will allow you to create a winning resume:

Use the STAR format. It means that you need to present your work experience in bullet points using the situation, task, action, and result model;
Quantify your impact. You need to use numbers whenever it is possible to convince the hiring manager that you know how to perform your duties;
List your major achievements instead of listing everything;
Highlight the most meaningful awards and extracurricular activities;
Emphasize your key skills and responsibilities;
Keep your resume clear and easy-to-read.

If you have no idea how to write your resume, do not hesitate to address our custom writing service.

Cover Letter

A cover letter is one more document you will need to attach to your application. It is necessary to understand that your cover letter should not include the information from your resume. This letter should convince your reader that you are a very good fit for this internship. Although writing a cover letter is not mandatory, in many cases, it can be very helpful in the decision-making process. In your cover letter, you need to show that you are very passionate about the opportunity to become a part of the internship and you are ready to do your best to succeed in this position. Writing a cover letter is a time and effort-consuming task. However, by knowing how to turn a simple cover letter into an engaging piece, you will definitely reach your goals.

Begin your letter with a good hook. You may include an anecdote, a fact from your life, or anything else that may engage your reader;
The best tips for getting an internship say that you need to carry out some research about the company. Show that you know what duties are required of you;
Explain how your previous work has prepared you for this internship;
Customize your letter for each internship during college.

If you have no time or sufficient writing skills to work on your cover letter, you can order it at our writing platform. Skilled, proficient, and experienced, our writers will do their best to provide you with the anticipated outcome.

Build connections

As for additional tips for getting an internship, you should know that making contacts within the organization is a very good strategy. For this purpose, you need to create a LinkedIn account and join the people currently working in the company you apply to. The more people you communicate with, the better your chances to have insiders in your target organization are.

Nail the interview

If you have completed the previous steps successfully, it is high time to get prepared for the interview. Study your resume and cover letter carefully because most of the questions of your recruiter will be about the points mentioned in these documents. Keep in mind that an interview is your opportunity to showcase your interest in the internship. Thus, you need to convince your target audience that you are motivated, passionate, and skilled enough to obtain the position chosen. We assure you that good preparation will definitely help you understand how to get an internship in college.

Accept the internship

If you are certain that the specific internship is just what you have been looking for, you may accept the offer. Do not forget that internship is the best way to learn more about the chosen field and gain more insights into your future career. The successful internship experience will definitely enable you to build a career in the desired field. We do hope that our efficient tips helped you figure out how to get a good internship.
In case you can't get the internship job you dream about no matter how hard you try, don't get disappointed. After all, any job experience is valuable and an internship in some other company may bring you unexpected advantages.