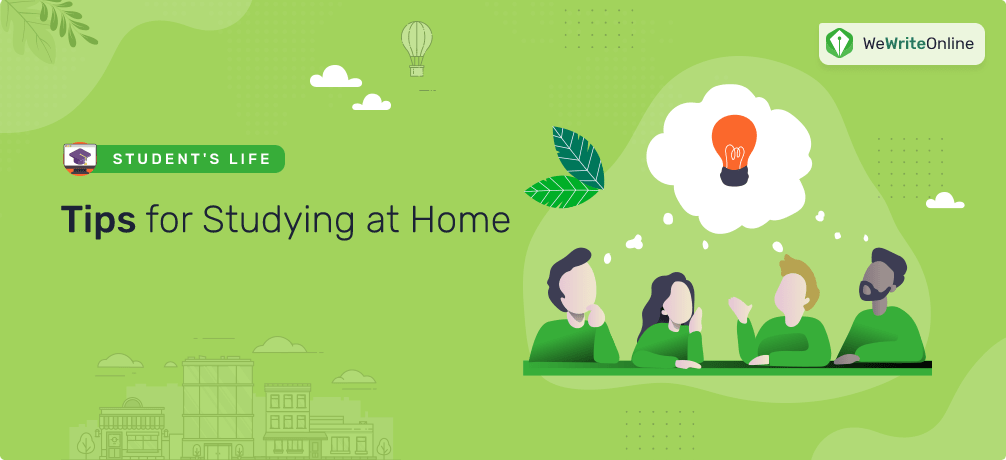 Due to the outbreak of COVID-19, all US colleges and universities have transitioned to online classes. For those students, who used to study in classes it is a great challenge because studying at home is much more difficult than it might seem. Now, they are desperately trying to find an answer to the question "how to study at home?" No wonder, studying at home, you will need to have stronger willpower to stay focused and attentive. They can easily get distracted by pets, family, TV, etc. Besides, limited access to study equipment and technical problems do not allow the student to focus on the studying process. What to do in such a situation? In our article, we are going to provide you with top studying at home tips that will help you improve the process of your study. In the present-day realms, when no one knows what to expect in a week, the students find it very difficult to focus on the study because of many reasons. Some of them lack motivation whereas others do not have the necessary equipment to receive the skills and knowledge. However, we assure you that by adapting to new conditions, you will become stronger and more mature. To make the adjustment process smoother, you may have a look at tips for studying from home given below.
Motivation and organization are the most powerful factors that influence your results at college. If you have it, you are an achiever. If you don't have it, you'll be in the tail of the train. In many cases, lack of motivation comes from ignorance. What kind of ignorance, you may ask? Ignorance about the tricks that can bring your studying process to a whole new level.
Top Studying at Home Tips
Create an appropriate environment. It should be a place that brings you joy when you study. Tidy, bright, comfortable, quiet, and free from distractions. If for some reason you still find it impossible to study at home, study at the library or between the classes. If you don't need technologies for studying, switch them off;
Organize yourself. Active study requires perfect organization. To organize your study, use the academic planner. This way you can keep track of all your deadlines, homework, and assignments. You can use a paper planner or organize your studies using online tools. Always use color coding and labels to increase the efficiency of your studies;
Manage your time. A lot of people pay tons of money to learn time management. You can learn this skill at school and get great benefits before you graduate. Plan a specific timeframe for every subject and set a realistic deadline. Think of all activities that you have when setting the deadline; otherwise, you may face the peril of setting an unattainable goal;
Communicate. Engage with teachers and peers using social media. Share your thoughts, ask questions, and discuss different topics. Teachers are always glad to help you with your studies. On the other hand, your interest shows that you care, providing you with some more respect, which most of the time leads to better grades;
Take a break. Your brain can only perceive a limited amount of information at a time. That is why you should take a 15-minute break for every 60 minutes of study. Listen to the music, go for a walk, or just relax;
Reward yourself. Add the dopamine factor to motivate yourself! Reward yourself with small things when you achieve certain milestones. Play an hour of computer game or treat yourself with your favorite food;
Make up a routine. Try to arrange your study at home in the same process you have in your college or university. Set the time to get dressed and eat your breakfast. If you consider this weird, you should understand that by doing these things, you will give a sign to your brain saying that it's high time to work;
Have a particular study area. Don't try to read a book or work on your research paper in different places of your house because it will distract you. You need to create a physical boundary between your areas of relaxation and your study area. When these places are mixed, it may lead to stress and anxiety;
Take your phone away. It is particularly important to be attentive when studying at home. As such, you need to turn off notifications from messages and close unnecessary webpages on your laptop. By minimizing your distractors, you will be able to dedicate enough attention to the studying process. Many students admit that it is one of the best tips for studying at home;
Do not forget about physical activity. Nowadays, when it is better to stay home, it is very important to pay close attention to your physical activity. Walk around your room, do stretching, or jump. In other words, you should do everything possible to keep your body healthy because it significantly affects your mind;
Sleep well and eat healthy food. Forget about junk food because it is the shortest way to get overweight. Try to sleep at least for 7-8 hours per day as it will enable you to keep your mind in good shape;
Try to avoid multitasking. Taking too many tasks to complete, you will lose your productivity. To make yourself more productive, you need to set a good schedule and follow it when studying.
Yes, some of the tips for studying online and at home suggested in our list can be familiar to you. However, we assure you that applying a good approach consisting of our top studying at home tips, you will be able to achieve a great outcome.
Active learning strategies give great results and reduce stress. Use them!
In addition to following the study tips at home mentioned in our guide, you may also create a "healthy network." It means that you need to communicate more with people, who are also self-disciplined because it will enable you to follow your schedule attentively. Now, people need to support each other sharing their top studying at home tips and practices. Good luck and stay safe!