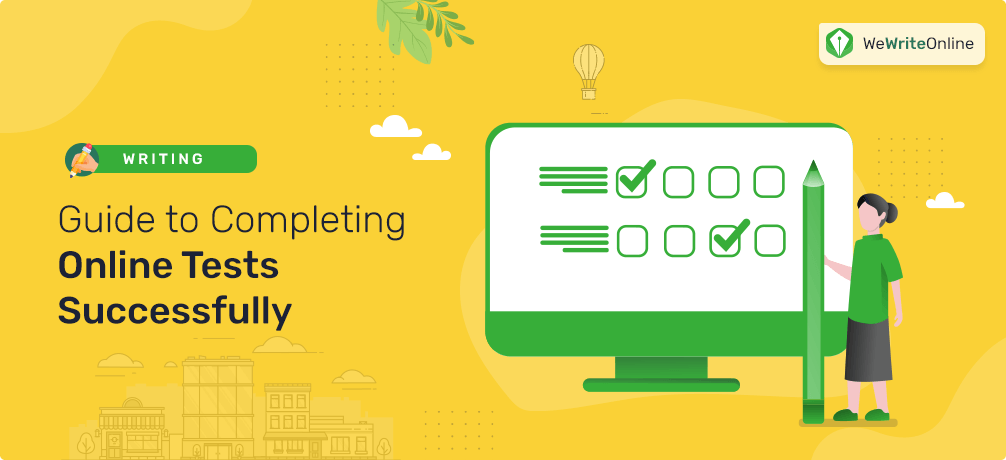 "Completing my online tests was a piece of cake!", "I would really love to take my online test once more!", "there is nothing as simple as to take my test online". Have you ever heard anyone pronounce one of these phrases? You probably will not, as taking online tests is not even close to anything simple or enjoyable. However, if you need to prepare for a test with a limited timeframe and one try only, the suggestions and tips for taking an online test given in this article may make you a little more efficient.
In many respects, an online test is similar to taking a traditional exam, but there are some crucial differences.
The same level of preparation and the same strategic approach really does apply to online examinations. The tips provided below are designed to help you get the highest possible scores on online tests. They should help you avoid common mistakes that have no bearing on your knowledge levels.
Prior to Your Exam
Revise and study beforehand. Some students think that they can check notes and books during an online test just because no one can see them. Even if you cannot be seen, the practice of checking materials while an exam underway reduces the amount of time available for completing the exam. There is little point in getting a few extra correct answers if there is not sufficient time for the final ten test questions.
Additionally, unless your exam is of the open book variety, the practice of consulting notes and other materials during a test is cheating. So you should resist the temptation to do this.
In the case of open book exams, it will still be necessary to study and familiarise yourself with the materials beforehand in order to make optimum use of the exam time available to you. This will also help you get the best possible grades.
Identify a quiet and noise-free spot to sit your online test. There are time limits to most exams. Therefore, you should try to find a place that is noise-free and disruption-free for the duration of your exam. If that place is in your home, let your family know the exam time and establish some "quiet" rules. If this is unlikely to work, find somewhere else. Public and college libraries usually have quiet places for reading and study. One thing for certain is that a coffee shop is not the ideal spot!
Check all technical requirements beforehand. Does your computer work the way it should? Have you a stable link to the test website? Do you know the site's login details and passwords? Make sure you can access the exam site in advance and that you have the login details.
Another thing to remember is that webcams are becoming more common these days. If the course you are taking makes use of webcam technology to monitor cheating, make sure everything is correctly set up and understand what is permissible and not permissible. Generally speaking, webcams can see the student's head, hands, computer monitor, and a 180-degree view of the test room.
Know the exam parameters. There are a number of things you should understand about how a test works. Double-check your course syllabus because it may have some of the answers.
How long will your test last?
Will you be able to leave and return to the exam e.g. log in and out?
Will you be able to return to an earlier question or do answers have to be submitted before you can move to the next?
Understanding the rules or parameters of your test will enable you to manage your time more effectively.
While the Exam is In Progress
You should only keep the test application open on your computer. Other open windows can indicate cheating. Furthermore, several open applications can slow your computer down and cause you to lose valuable exam time. So, please bear this in mind.
Monitor your time during the exam. Work out the amount of time you will need for each question or section at the outset to ensure you get everything finished on time.
Colleges and universities usually view cheating as a violation of a code of honor. Moreover, this practice can cause you to fail a test or entire course and/or get you expelled.
These tips should ensure you succeed in your online tests.
The Popularity of Online Tests Explained
Online tests are being more and more widely used by professors of different disciplines and academic years, and they are replacing the more outdated forms of examination very quickly. This process is happening due to the new era of technology that transforms a part of the learning curriculum in electronic form. Involving the online platforms into testing has a lot of advantages, as shown in the list below.
The results are counted accurately: when the human factor is eliminated, the tests are checked with accuracy.
The assessment is done very quickly. Checking tests of 600 students take up to 2 minutes for technology while checking the same amount of paper tests would take the entire day of the professor.
The test can be taken from any location and at any convenient hour. This is convenient, to say the least, and this form of evaluation is suitable for online courses.
This sort of test is cheaper. It requires almost no resources.
Do My Test for Me
"Can anyone take my online test for me?" – this is probably what you are thinking when you see that you lack the knowledge and skills to pass the approaching test successfully. Well, there are some good news for you: we actually have someone who can do this kind of task for you!
WeWriteOnline.com knows how to make a test online because we have been dealing with this kind of examinations for many years. Our company provides qualified academic assistance of different kinds, and online tests are our major specialization. Hundreds of students from different parts of the world have left their positive feedback about our service, as we helped them to pass their tests effectively. We take care of all the stages of work, including reading, preparation, and test-taking. We complete every test on our first attempt and always stay within the given time frames. Therefore, if you come to our website and send us a request like "can you take my test for me online?", the answer will always be "yes!"
Calculate your essay price
Can I Pay Someone to Take My Test for Me?
Yes, you can. In order to do it, you need to place an order at WeWriteOnline.com. See the ordering button on our home page and follow the system's prompts. Once you fill out the form with information about your test, the system will take you to the payment page. You will need to make the transaction, and then we will read your instructions carefully. Depending on the discipline and academic sphere of your order, we will assign a professional whose qualifications match the requirements. This person will prepare for an online test, read the needed literature sources, and make sure that the knowledge he or she has lies within the specific questions that may be involved in the test. Then, the assigned expert will log in and take the test, receiving good grades for it. Needless to say, our professionals will not delay the test or submit it late: the given deadline will be their priority.
Who Will Be Completing My Online Tests?
If you place an order with us, it will be handled by high-class professionals. We are proud of our writing department because every member of our team is a certified specialist in a certain academic field with either a Master's or a Ph.D. degree. We use a thorough selection process to find new writers for our company, and their knowledge and analytical skills are well-tested. This guarantees a great result on your test, and you do not need to worry about losing a lot of points. If the upcoming online test is decisive for your final grades, hiring one of our experts is the best you can do to ensure the best result and save your academic position. Besides, in case you have no time for preparation and doing all the reading and researching, you can count on our writers because for them the required materials are already familiar. While it will take you weeks to learn everything, they will only need a few hours to refresh their knowledge.
How Can I Pass an Online Exam Successfully?
When the deadline is approaching and the topics for learning are piling up, you imagine taking the test and start to panic. You are ready to do anything and try anyways of passing that test successfully. You start reading pieces of information, looking through your class notes, looking for some tips online, but you still do not quite feel ready for the test.
Stop for a minute. Breathe in, breathe out. We have got it under control.
We have all the tools needed to pass your test with flying colors. We have a well-trained team to do this assignment for you. We have years of experience and proper education to handle this exam decently. You can rely on us. You can finally delegate all the work to professionals and rest assured that everything will be done timely and effectively. Simply navigate to the order form and take the first step towards certainty and better grades.