What Tendencies Were Brought In During the Last Decade?
Looking back, we can undoubtedly state that 2007 was a difference maker. A decade ago, two events had been so important that they have changed the society forever. The appearance of the first iPhone and the premiere of the beloved serial Keeping Up with the Kardashians were a breath of fresh air and at once attracted the attention of the masses. Could we perceive those events as the point of no return as they have brought in dramatic changes to the way we perceive life, beauty, and oneself?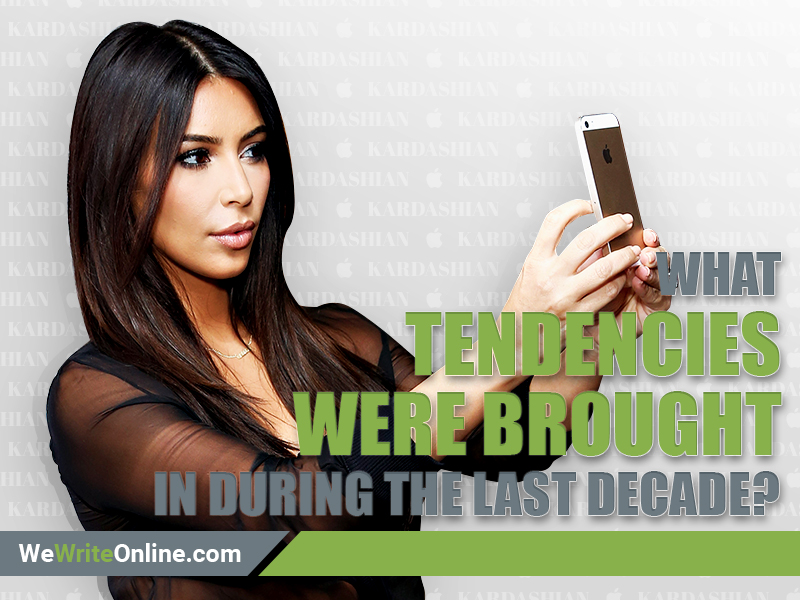 Is There Any Way Out of the Situation?

The middle of June 2007 was a remarkable period as at that time we have been presented the first laptop. Starting from then, every ordinary person could have had this wonder of technology at home and even bring it everywhere with. It caused a sensation, many people were staying in the queues to buy a brand-new device. In a couple of hours, thousands of items were sold like hotcakes. Recently, we have been offered the state of art iPhone X, however, it seems like the things remain to be the same. Literally, due to its global connectedness and promotion in the social media, the brand does not leave a chance to stay indifferent and not to purchase the novelty.
Three months later, we got acquainted with this amazing family California family. Who could imagine that this acquaintanceship would be as long as almost two hundred episodes? Time goes by and people are still keeping up with the show.
Nowadays, more than a half of all the population on the Earth is able to use the Internet and have smartphones. At a rough estimate, it may be more than 3 billion people. Approximately, 600 million people started to use iPhone just a year ago. This is also the number of people being registered on Instagram. A decade ago, the social network has not been invented yet, but now it is something people are totally addicted to. As for present days, Kim Kardashian West has 103 million followers on Instagram. That is how the way we are influenced today.
Kim is not the first person to make a selfie. But what she is definitely in charge of is a book with the collection of her self-portraits. The book's title is Selfish, and it was published in 2016. The same year, she posted a photo that went viral. That well-known and at the same time scandalous selfie featuring naked celebrity and her gray iPhone created a sensation.
The positive side of the situation is that she is brave enough to present the absolutely different standard of beauty, to show that not only thin and fair-skinned models could represent the glory. The censorious European stereotypes and norms of beauty are a step towards being left aside. The downside is that it projects the modern tendencies of the generation valuing themselves the most and be passionate about the way you look. The reflection of ourselves in the mirror and self-centeredness is being promoted elsewhere.
The path humanity has started following is really dangerous and surely will have a strong impact in many spheres. The era of frivolousness, online onslaught, and mass-media expansion is luring us to be subconsciously dependent on the information being imposed on us. What is more, human beings are tense and edgy more than ever before. A depression is not perceived as something unusual and is rather the state people are used to. There is no point in accusing just one factor of it, a variety of aspects are capable of changing our outlook on life.
The aspect worth mentioning is comparison being present in social media in double variation: downward and upward. We go from one extreme to another either looking down on someone and thinking that you are more worthy or vice versa: feeling humbled because of low self-esteem and all the time comparing oneself to others. What combines those two side-effects is that the consequences are conditional self-esteem and eternal bondage to opinion of surrounding world.
To escape from such an awful situation, we need to be objective to ourselves. Nevertheless, we should set high expectations to our personal development, and sometimes, the result could not come rapidly. But that is not the reason to get disappointed, be enthusiastic and at the same time realistic. Learning acceptance of your true self will definitely help.
Have a yen for things that would be valuable for you, not because somebody else has done it. Therefore, exercise your mind to pay attention to your own personality rather than judging other people.
People who have made their contribution to the course of history are famous even without creating a profile on Facebook or Instagram. They had their zealous strategy to carry out and that was truly efficacious. Franklin inclined making a certain kind of lists. Flannery O'Connor was driven and determined to follow a strict routine. Audrey Hepburn devoted much time and recourse to charity.
To sum up, not everybody could become a politician, president, actor, but there are so many spheres you can realize yourself in. Devote time to the activity you are passionate about, and the reward will come soon. Additionally, it is not only about money, but satisfaction and getting rid of the feeling of irrelevance and leading a fulfilling life. Social networks have their disadvantages and may influence the vision of oneself, but the fact is that you decide to be jealous or not, to boast or not. That is why only a healthy dose of criticism can prevent you from being a selfish network addicted person. Omit the trap and build up a harmonious relationship with your inner self.