Survival Tips for the Next Few Weeks before Winter Break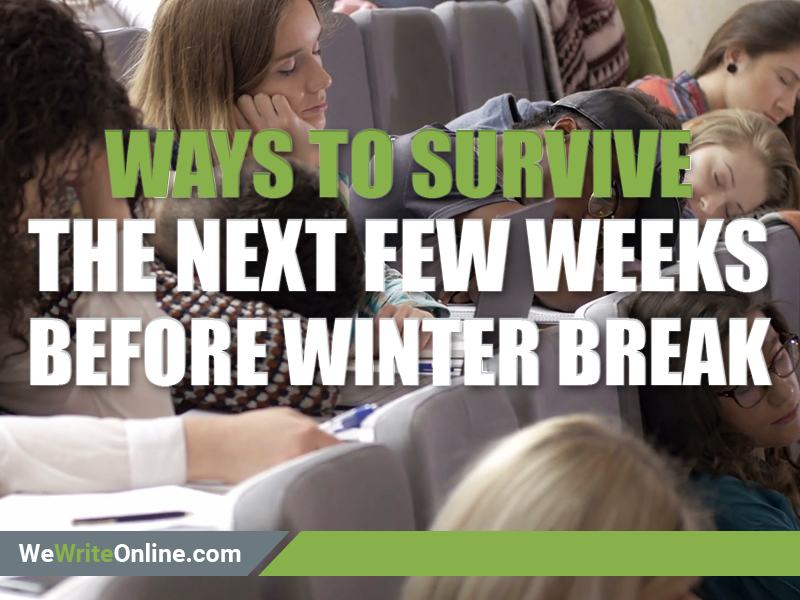 When students are thinking about the winter break, they're usually envisioning their family, old friends, traveling and celebrating holidays. However, it's not what they should be focused on because, after the Thanksgiving, each day brings students closer to the finals. If you have no desire to mess up with the GPA, here are the top 5 tips to stay focused on the finals before the winter break:
Think about holidays during short breaks. Many students start to procrastinate and think about the forthcoming winter break. This way they spend too much time doing nothing and finally find themselves in an unfavorable position. Our advice is to think about the holidays only when you take short breaks from studies so that you spend all other time that you have effectively.
Sleep enough and well. All-nighters are a waste of your time and energy. It is much better to organize your time so that you could study during the day and sleep during the night.
Don't wait until the late evening before you start studying. Because it will eventually lead you to all-nighter which will grant you sore eyes and headache on the next day. Instead of making yourself miserable, you can dedicate a little time for studies in the periods of the day when you feel you're the most productive. Sometimes it's difficult to organize yourself, especially before the winter break, but that's what you need to do in order not to get too overwhelmed during the finals.
Eat well. Don't choose eating anything or eating junk food because it will only make your life more miserable. If you don't have the time to cook, just order something healthy. Eating the right types of food will make the mind more focused and it will be easier for you to achieve your goals.
Study together with your friends. It can be very helpful to study with your friends because this will allow you to save time on studies. You can divide the material that you need to learn and retell it to each other.
Studying for finals is not a pleasant or funny thing to do, so it won't be easy, but if follow these 5 tips your preparation will definitely be much less stressful.