A cause and effect essay is a common assignment that asks you to explain how one action or event leads to another. It requires the ability to analyze things and express them in a way that the reader can understand. You should know how to write a cause and effect essay whether you work in a field of science or even business.
Your Excellent Cause and Effect Essay Writing Is Just a Few Clicks Away!
Calculate your essay price
Writing a Cause and Effect Essay
One good way of defining an essay of the cause and effect variety is to say that "one event can cause another or several others." That "one event" can be referred to as the "cause" while "the other" is the effect. Often one cause can have several effects.
If you are asked to write a cause-effect essay, the process involves selecting a topic and establishing the relationship between the cause – why something happens – and the effect – the result. You will need to demonstrate the existence of a particular issue, and your analysis is the explanation you provide.
Ask yourself the following questions to evaluate how effective your essay is:
Is it clear what the causes are?
Is it clear what the effects are?
How many causes and/or effects are there – one or multiple?
Is there a 'chain reaction' type of effect?
Do a little brainstorming to generate essay topics and to identify various causes and related effects. Decide whether your essay will discuss one topic or several points. Keep asking questions for as long as it takes to be confident you have explored all possibilities. Check that all relationships are valid and logical.
How to Organize Your Essay
Once you have finished brainstorming, think about your chosen topic and the most effective way of organizing it. An essay of this type can be presented using any one of these three methods:
By importance
By category
In chronological order
If you choose to present the points in your essay by their importance, you should organize items going from most important to least important or the other way around. If you decide to organize by category, you should divide your list into as many parts as required and arrange items accordingly. Using the chronological system, you should arrange items or events in the order they occurred.
Key Elements of a Cause and Effect Essay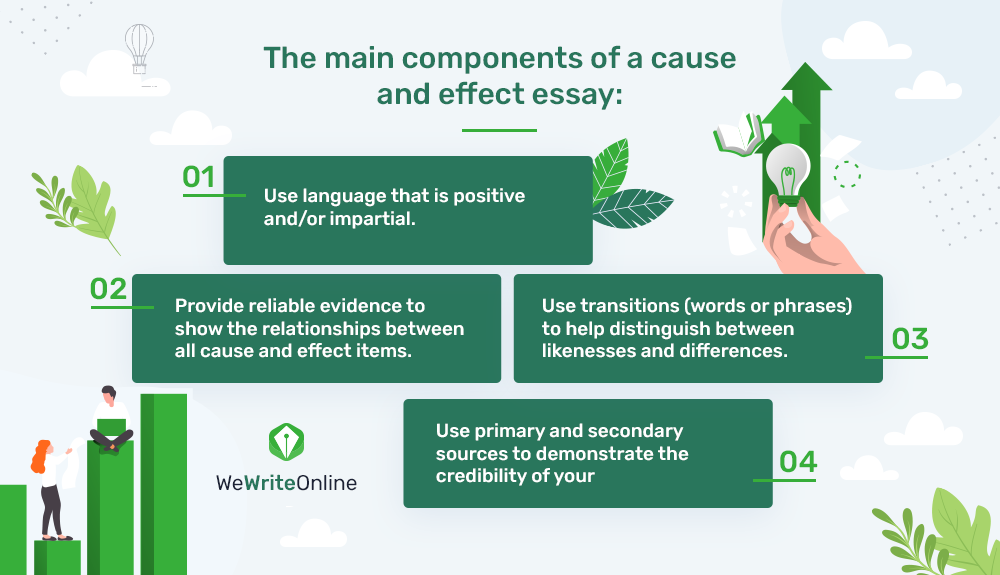 The Framework for Your Cause Effect Essay
The component parts outlined below form the framework for a good cause effect essay:
A topic that is interesting and solely focused on informing and analyzing.
A strong introductory paragraph with a concise and clearly written thesis statement.
A minimum of three main body paragraphs containing evidence that is plausible and fully supportive of your thesis.
A concluding paragraph that smoothly combines every point and paragraph.
The Structure of a Cause Effect Essay
An introductory paragraph should do the following:
Describe the essay's topic along with the main discussion points.
Set out the thesis statement and the purpose it serves.
Offer supporting information such as descriptions, examples, and facts to make the essay stronger.
Make use of transitions to take readers into the body of the essay.
The main body paragraphs should be used to build relationships and show why certain things or events happen and what their results are. The following points should be borne in mind when you are writing body paragraphs:
Use one paragraph to provide detailed descriptions of the cause(s).
Use another paragraph to outline particular effects.
Explain the relationship(s) between the causes and effects and why it is important to analyze them.
Include correctly cited sources to lend credibility to your stance.
Make use of signal words or phrases to indicate causes (e.g. another point, because, why, results of, what the cause is, why, and so on).
Make use of signal words or phrases to indicate effects (e.g. another outcome, because, consequently, as a result of, one notable effect, and so on).
Rather than summing-up the points from the main body paragraphs, the concluding paragraph should synthesize this information. It is your final chance to convince readers about your stance so your argument should be logical and convincing.
Add a reference list at the end of your essay. Format your sources according to the instructions you have been given or according to the relevant style guide, e.g., in the APA or MLA style.
Why Should You Buy Cause and Effect Essays From WeWriteOnline.com?
If you are thinking to yourself, "What is a cause and effect essay?" chances are you could use high-quality cause and effect essay writing service. That is precisely what we provide at WeWriteOnline.com. If you lack writing skills or a good analytical eye, writing a cause and effect essay can be a real struggle. You need to be able to examine one variable and explain in great detail how it leads to another. But when you are a student, you do not have time to think up good cause and effect essay topics, much less write about them. Through our cause and effect essay writing help, you receive a high-quality product that gets you the top grades you deserve.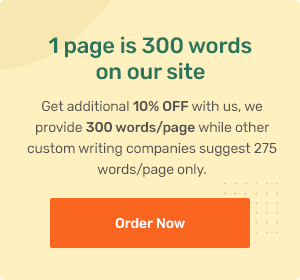 Why should you spend countless hours working on a cause and effect essay when it is so much easier to just outsource the task to a professional writer? Your writer will follow all of your instructions to the letter and craft an amazing paper that is sure to impress. With our cause and effect essay assistance, the only thing you have to worry about is how to make use of all that extra free time!
There are plenty of reasons why you might want to buy a cause and effect essay. Perhaps you have never written this assignment and do not know how to start. Or maybe you are having a hard time thinking up a good topic. For many students, the cause and effect essay is a boring assignment that will not gain them any useful skills once they get out into the real world. If any of those sounds like you, hire an expert writer to tackle this task. Place an order before you go to bed and wake up to amazing writing work that is unique, thoughtful, and highly informative. No matter the subject or level of complexity, we have a talented writer who can deliver exactly what you need when you need it!
If you are typing "cause and effect essay definition" into a search engine, it is probably a sign that you need some academic writing help. This is not the type of assignment that allows you to wing it. You have to know exactly what you are doing, create an outline, and write a coherent paper that details the relationship between two variables. Once you are done writing, you also need to take the time to carefully edit and proofread your work. Who has time for any of that? The professional writers at WeWriteOnline.com, naturally! When you use our services, you gain the following advantages:
A high-quality paper is written according to your exact specifications;
Affordable writing help;
A boost in your academic performance;
More freedom to do whatever you want.
Order Custom Writing from the Best!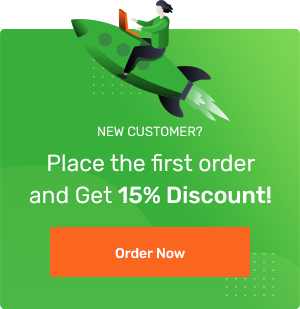 When you are a college student, cause and effect essays are an unfortunate reality. However, this does not mean you have to write them by yourself. When your goal is better grades and more free time, let WeWriteOnline.com handle the burden by writing your assignments for you. You will save yourself a lot of headaches and receive magnificent work that helps you achieve your academic goals.
When you place an order, you will not need to cross your fingers and hope for a good outcome. We not only write high-quality custom work, but our quality assurance team will also look it over and make sure it is free of grammar mistakes and spelling errors before you receive the final product. We will also scan it for plagiarism, ensuring original content.
Have you tried writing a cause and effect essay before only to receive a mediocre grade? With WeWriteOnline.com by your side, you will never have to worry about this ever again! Get in touch with us today and we will be glad to start the paper immediately!