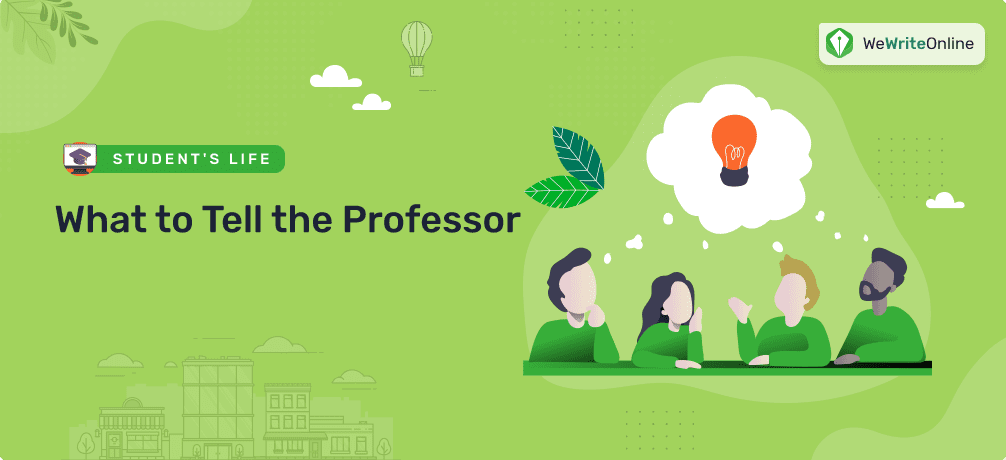 Student years are the best years of your life. It is a time when you are old enough to make your own decisions, but still young enough to think of the career obstacles, money matters, and family. Your primary task now is studying and getting your education. However, even those students who usually study hard may face some obstacles and end up in not doing homework. The first time when you are in such trouble, you feel puzzled as not doing homework means losing your positive reputation in eyes of your professor, or even may be failing the subject. However, do not get upset! You can invent some ideas of what to tell your professor in order to mitigate the problem. Think of the reason your professor would believe. In case you cannot come up with a good idea, you can use one of our funny college tips.
So, here are our funny college tips – the suggestions of how to communicate with your professor when you are not doing homework:
You can tell the truth. It is the least expected tip, but sometimes it is the only way to save the situation. If your professor is very inquisitive and detail-oriented person, it is not a right place to joke with made-up stories. Just tell the reason of your failure and ask for the extension, or promise to do the twice-task for the next time.
Write an e-mail telling that you are sick and cannot come to a college this day. Thus, you will have more time to do the homework. Your professor will think you are sick instead of the real reason for your miss. Be very polite and formal.
Tell your professor that you faced some hardship with doing the task. Invent the issue, with which you may have a problem, and say that you need more time to research, study and prepare this homework. The professor will think that you are a very persistent and diligent student and will give you more time to finish your task.
You can tell your professor that you have lost the flash drive with the prepared home task and did not save the copy of the work. Tell, you will be more careful the next time and the professor will believe your story.
Tell that your parents, who live in a different state and visit you only once a year, had a chance to pay a small visit. So, you really had to spend some time with them instead of writing the homework, and you could not disappoint them.
You can tell your professor that some relative of yours got to a hospital, and you were the only one who could help and stay with the sick person. It is better to invent the relative. For instance, to tell about your "fictional" brother while you have 3 sisters.
Tell that the operation system at your laptop was broken and you could not restore the data, including the prepared home task. This happened yesterday evening, and you really did not have time to redo the entire work.
You can tell that you were offered the unexpected internship in his subject yesterday (your interest in his particular subject would please him), and you decided that it is a one-of-a-kind chance, and you cannot miss it. So, you decided to postpone the task. But you promise to keep up and do your best for the next time.
Find the reason that is connected with charity or kind actions. People usually believe in good intentions. For instance, you may say that you had to volunteer at some charitable event and did not have time to complete the task. But you will improve the next time and prepare the homework carefully. Just look at the local newspaper for the charitable events for the previous week or days, and will find the right solution.
Tell the professor that you totally do not understand anything and need his help. Say you would appreciate if the professor recommends a tutor to help you with the lessons. Of course, the professor will be more than happy to help you. If he asks why not you came to his office hours, say that you were hoping to manage the task by yourself. But after few days of studying, you finally understood that it was too difficult.
Those funny college tips are the emergency tool. To avoid cheating and inconveniences, try to be on time with all assignments. And if you need more time, or help from professor, let him know in advance. This will add credibility to your positive attempts and will save your reputation in cases of being late!