US Celebration of Mother's Day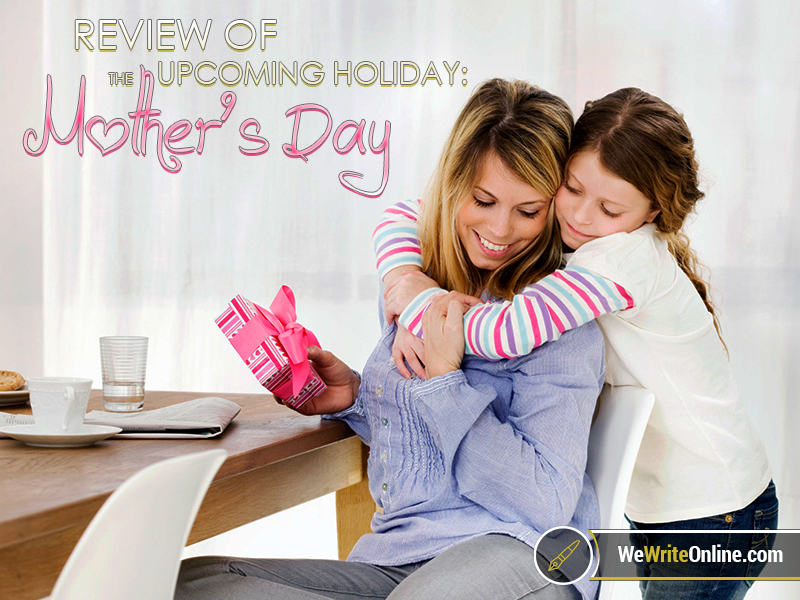 The holiday of all mothers is traditionally celebrated on the second Sunday of May. In order to praise the motherhood, people present cards, flowers, and gifts, and book tables in restaurants for their grandmothers, mothers, foster mothers, and stepmothers.
How Is It Celebrated?
Nowadays, many grown-up children live separately from their mothers. So, this day is a special occasion to visit mothers and present them with cards and special gifts. Traditional presents are candies, chocolates, flowers, jewelry, clothing, spa and beauty treatment gift certificates, etc. There are also families that book tables in restaurants or organize a meal at home. Small kids also prepare hand-made cards and presents for their mothers with the help of teachers at school.
Public Life
It is not a federal holiday, so businesses, shops, organizations and public transit system work according to their usual Sunday schedules. Restaurants and cafes are often busier than usual, because many people go out to celebrate Mother's Day.
The History of Mother's Day
There is no single view on the origins of Mother's Day. The most common version of holiday emergence is attributed to Anna Jarvis and Julia Ward Howe. Another version names Juliet Calhoun Blakely as a founder of the holiday. According to the sources, in the late 1800s, she established the holiday in Albion, Michigan. Her sons honored their mother annually and inspired others to pay tribute to their mothers.
In 1870s, Julia Ward Howe encouraged US citizens to celebrate Mother's Day annually because she saw the holiday as a way to increase pacifism and disarmament. The holiday had been held in Boston under Julia's sponsorship for about ten years, but then it died out.
In 1907, Anna Jarvis arranged the celebration of the holiday in honor of her mother in Grafton, West Virginia. Anna's mother was famous for being the leader of "Mother's Day Work Clubs" that worked towards the improvement of health and cleanliness of the town. Anna Jarvis tried to make Mother's Day celebration popular in the USA. John Wanamaker, Philadelphian clothing merchant, supported her campaign financially.
In 1908, Anna Jarvis organized a religious ceremony in Andrew's Methodist Episcopal Church in her hometown that was visited by 407 children and their mothers. Nowadays, the church is famous for the International Mother's Day Shrine.
Today, many US citizens view the holiday as a chance to pay tribute to their mothers. As a result, many businesses in the country also see it as an important event and offer their services in honor of the holiday.