What to wear on the first day at the university or college?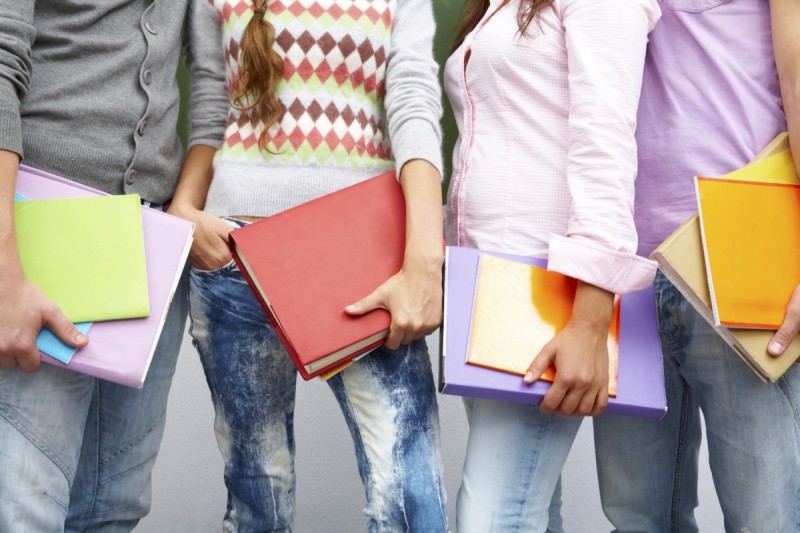 It is very hard for freshmen to get comfortable with a new group of people. The first day at the university or college is very important because that is the first time when you will meet people with whom you will study for several years. And these people are very different – by temperament, and character, and even nationality. At school, a majority of students are from the same city, but the university is a whole world in miniature size. How to join the new group student? How to present yourself successfully? What to wear on the first day at the university/college? This and many other things will be discussed in this article.
Clothing choices: general principles
In this day usually open classes are hold, pupils and students do meetings. They are trying to get dressed festively while wanting to stand out from the crowd. Choosing a dress for the first day of school should be guided by three principles: you should put something in what you feel comfortable, in what you look good and that will correspond to the weather conditions of that day.
Pieces of advice for men
Young men who wish to emphasize their serious attitude to learning strive to get dressed solemnly in the first day. Typically, classic suits in the university do not look quite appropriate, so you should wear only their lower part – trousers. Complete them with fitted shirt (not necessarily that it should be white; gray, marsh, pink and other colors also will look very worthy), belt and shoes. It is strictly forbidden to be in the university in shorts, sandals, and T-shirt.
Pieces of advice for girls
As usual, girls in the selection of clothing are much more serious. For them the choice of clothing on the first day of the university or college is not the only way to please the teachers, but also stand out, differ from classmates and express their individuality. Traditional outfit is a style of "white top, black bottom", which is often treated as a black skirt below the knee and a classic white blouse.
In order to stand out from the crowd of black and white, but not to look vulgar, you can wear a dress of classic cut – "Case", a dress-shirt, or another option. All of them emphasize will your femininity and elegance, and at the same time will show the adult look at the selection of clothing which is different from the usual set of school skirts and blouses.
Here are some other acceptable options of attire for women: narrowed down classic trousers with neutral color combined with a bright top, emphasizing the figure (it is not necessary to get out blouse with a deep neckline) and jacket; pencil skirt and tucked into it blouse with unusual cut (with stand-up collar or other extraordinary detail).
How to choose shoes?
Especially important is the choice of shoes. Do not put on new shoes, if you are not certain, that they will not rub your leg. Beauty is important, of course, but unlikely it will be nice to come back from the holiday barefoot. However, in any case, new clothes mentally prepare us to start the year anew, or from scratch. We advise you preferring court shoes or open shoes on heels. Bright sandals or high heels are not suitable for the official part of the first day in the university or college.
Important details
A huge role in the beautiful image has a hairstyle. It may be the usual braids, pretty stylish beam or soft waves. Of course, there are plenty variants to choose from, but the most important thing is that all parts and accessories should be perfectly combined and harmonized with each other.
Typically, it is decided to buy new things or at least part of it of the planned outfit. You can buy a dress, skirt, pants or shirt that will help you to look with all dignity in the shops of your city, and in the online boutiques.
It is necessary to take spare pantyhose, cleaning footwear sponge, nail or hair mousse, as well as a small cosmetic bag, which will help to feel confident and avoid the consequences of minor incidents with makeup throughout the day. On the eve of visit you can visit the beauty salon – your hair and manicure should be in perfect order. Make-up is required, but it should be moderate, as well as your flavor. You must look neat. In advance, check whether all the buttons in place, as well as explore the stockings for puffs and "arrows". Most importantly, make an impression of a happy person that is happy because he or she is already in such a good college\ university and a great group of people around.