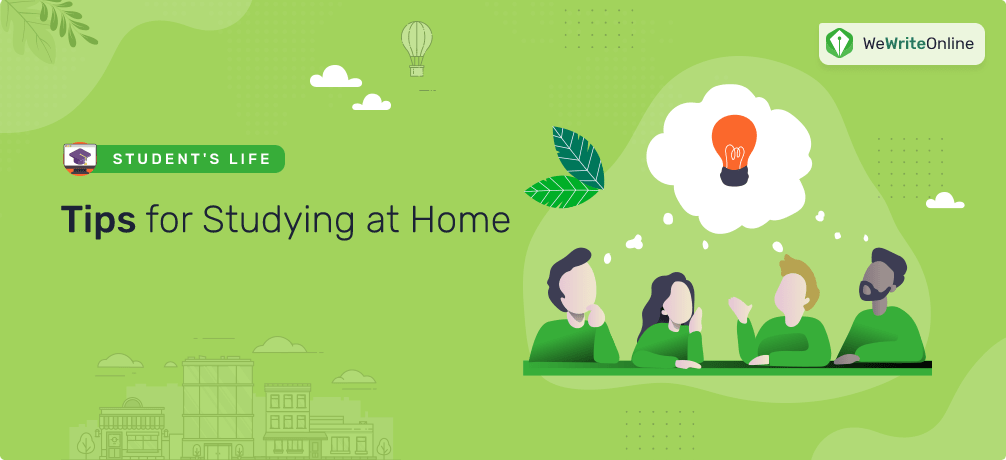 Learn about Key Advantages and Disadvantages of Studying at Home
When you are studying at home, you can be considered quite a lucky one, you know?
You wake up, then take a shower, get a cup of coffee, wear what you want and don't have to drive anywhere or, which is worse, use public transport. Along with numerous pluses, there are a few minutes of studying at home that you should be aware of.
The studies show that students prefer to study in comfort. Of course, by knowing how to focus on studying at home, one can economize much time and effort. What can be more comfortable than staying in your home? Home allows creating a great learning space, no matter what subject or discipline you are studying. Actually, the benefits of studying at home are diverse. At the same time, there are certain disadvantages that may interrupt the studying process. Let's have a closer look at all the main advantages and disadvantages of studying at home.
Key Advantages of Studying at Home
The main advantage of studying at home is that you have many things at your disposal without leaving your house. In addition to study materials, you may use your laptop, scanner, and other things;
Your comfort also depends on how well you drink and eat. Studying at home allows you to maintain the eating regime and stay healthy. Isn't it great?
Whenever it comes to study, solitude is a great thing that allows you to focus on the information, read the syllabuses, and perform simulations and practices. If you like to study with music on, then studying at hope is a great opportunity to do that. You will be able to accompany your study with the sounds of your favorite songs. Such a great experience!
When studying at home, you can monitor your schedule. If you are very tired and need to have a rest, you are free to do it. Refreshing your body and mind, you will be able to get better results;
You can wear what you want. Want to wear a tracksuit? No problem;
All people have their favorite study hours. Are you an early bird? Then wake up and study. Do you prefer to study at night? Studying at home will give you such an opportunity.
Main Disadvantages of Studying at Home
Along with the obvious advantages of studying at home, there are some disadvantages that should also be taken into account if you are considering an opportunity of studying at home. So, let's find out what are the main disadvantages of studying at home?
To organize the studying process properly, you will need to take care of many things. For instance, you need to have a large table and a comfortable chair. If you don't have enough space in your room, it may become a problem;
You won't have anyone to ask a question to discuss anything. Of course, you can give a call to your friend or sent an e-mail to your teacher but it may take much time to get a reply;
When it comes to studying at home, procrastination is a great problem. Even if you are a diligent and hard-working student, you may procrastinate as there is an interesting newsfeed in your social media account and too many great TV shows. Many students studying at home lack discipline and responsibility. No wonder, studying at home, you cannot resist the temptation of lying in the bad for too long and surfing the social networks;
Studying at home may be too exhausting and you may want to spend some time outdoors. Staying at home for too long will negatively influence your physical shape;
Of course, when it comes to studying, silence is your best friend. However, sometimes, the oasis of tranquility is not what you need to understand the topic properly.
Effective Study Techniques
Want to find out how to learn effectively, read our tips below.
Your Place
Background music is important. Like a river flowing or birds singing. This will make you feel better and happier in the process. There are special apps called ambient noise that will not distract you from your business and help you stay concentrated.
Time Your Coffee Breaks
When it comes to coffee time, there are the most suitable periods in a day when you can charge up. The first one is between 10 in the morning and noon, followed by the period between 2 p.m. and 5 p.m. Don't drink coffee in the early morning, your body has special stuff called cortisol to keep you up.
Do Your Chores Effectively
If you want to know how to learn effectively, start with your house chores. You can make your laundry work for you and introduce the parallel working technique. For example, turn on your laundry machine and use the time it works for one part of studying, such as writing something.
Notes
It is important to take notes! Remember and do this even if you are watching online courses!
Socialize
To get things done successively, you should get out of your room and hang out with people. Otherwise, you can lose your effectiveness and simply get crazy.
Pajamas Issues
To get yourself in tonus, dress up even if you are studying at home. Pajamas may make you lose your productivity and want to go back to bed, and it is not what we need, right?
The Rule of Three
According to this rule, you need just three things to be done. Your to-do list should have only three things. The next three things you add to it after you complete the previous ones.
Switch it off
If your smartphone is your distraction and you cannot cope with this problem, you should consider using an application that will block you from using it for some time. One of the apps that will help you do that is called a Moment. It will send incredibly annoying push notifications every few seconds when you take your phone during the banned time. We assure you that this experience will allow you to work more productively. There are hundreds of other applications performing similar functions and teaching you how to study at home effectively. Find the one that seems the most effective and study well!
Ask people to leave you alone. Most probably, studying at the library, nobody will distract you. However, when studying from home, you cannot resist the temptation to talk to your close people. You should not be rude or impolite but you should try to explain to your family that you need to have some time to study. By setting clear boundaries with your friends and family, you will be able to organize the studying process efficiently.
Use WeWritreOnline.com to maintain your successful performance. If you cannot work on all your tasks and projects successfully, stop torturing yourself and try to cooperate with our writing service. Hiring our proficient writers, you will be able to focus on other interesting activities.
We are sure that these tips will help you to stay productive when studying at home. What do you think about our tips and what do you do to stay concentrated when studying online?
There are many ways to be productive when studying at home. If you have your own tips for studying at home, do not hesitate to share them in the comments.
Desperate and frustrated, you think "I can't study at home. What can I do? We would like to inform you about a solution that will bring harmony and calmness to your life. WeWritreOnline.com is your personal writing assistant! We provide our clients with a wide range of services helping them cope with their academic challenges. At our service, you can order any academic paper including a research paper, case study, lab report, personal statement, or any other. If you feel exhausted from completing various academic projects, just let us know that you need our assistance and we will do everything possible to make you happy. If you have no idea how to study at home, consider cooperating with our service and you won't regret it! Creating premium quality papers is our primary area of specialization.