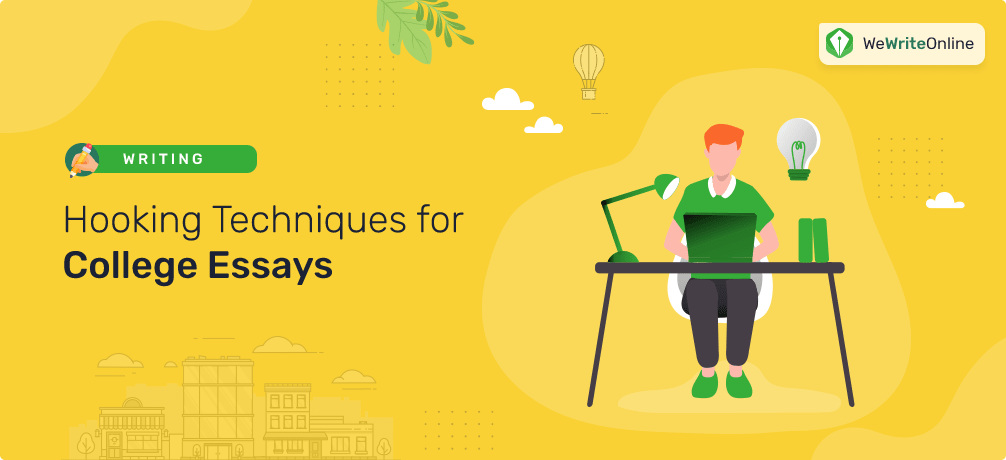 Admissions offices have to deal with hundreds of applications, so while writing your college essay your aim is not only to write it intelligently and well, but also to stand out enough to be memorable. The best way to do this is to use hooks in your writing. It is a simple technique that can provide stunning results. Here are five great tips on how to execute it properly.
5 Hooking Techniques for Good College Essays
Think Small
Try not to think about how to improve your writing skills on a macro-scale. Instead, focus on small and endearing instances of special emotional tension. Winning a football game or getting an award for your science project are general experiences. Tell the people something personal enough to matter.
Don't Be Afraid of Using First-Person Voice
Most tips on basic writing skills suggest you should not use narrative techniques in essays. However, it is more than appropriate if you are trying to hook people in with your writing. You are trying to explain why you are worthy of being admitted to the school of your dreams, so talk directly to the person making a decision.
Convey Your Feelings through Senses
Details make your writing come alive. Simply stating that you felt happy or sad does nothing for your writing. Instead, try to describe the things you saw, smelt, or heard at the moment when emotions overwhelmed you. This way the person reading your essay will be able to focus on you.
Use Adjectives
Descriptive writing can be truly beautiful when done right. Connect the admissions committee to your story by explaining your experience in minute detail. They should get the feeling of being present in the moment you are depicting.
Get Emotional
A college admissions essay is not the same as a research paper. You are allowed to be as emotional and painfully honest as you want. Speak from deep within your soul and people will respect that your sincerity.
To try out whether these techniques actually work, open your word processor and start writing!
How Many Words Should a College Essay Include?
Are you wondering how long should a college essay be? Although all the colleges have different college essay guidelines, the requirements for the length of the essay remain the same. It should not exceed 2 pages of written double-spaced text. It is approximately 600-650 words. You need to be very careful with the length of your college essay because by exceeding the limit, you won't get the desired outcome. As such, your main task is to present your personality in a pretty concise way. Some colleges require writing only 250-word essays. All in all, we recommend you to be particularly attentive when reading your college essay prompt as it clearly explains how to write a college essay.
Begin Your Work Properly
The specialists recommend writing your college essay only when you are done with all the academic projects and exams. In such a way, you will have enough energy and writing inspiration to create an impressive piece that will bring you the expected outcome.
The best strategy for writing a college essay is to start early. Having a considerable amount of time on writing, revising, and proofreading your paper, you will be able to create a good piece that will impress the admission board members.
Before you start writing your paper, you should clearly understand what is expected of you. Do you need to write an essay on a free topic emphasizing your strengths? Or you have to answer specific questions? Pay attention that in order to do everything right, you should understand every single aspect of your guidelines.
Also, you may look for the great samples of the college essays available on the web as they will help you get some insight into how such an essay should be written. Most probably, you will be asked to write an essay explaining your interest in the study in a certain educational institution or program. When working on this paper, you need to be as creative as possible. Keep in mind that the admission committee members read a lot of college essays on a daily basis and if you want to impress them, you need to write a truly amazing paper explaining why you are a perfect match.
College Essay Writing Handy Suggestions
The first and the most important step in writing a college essay is choosing the right topic. Very often, the students have a specific theme to discuss in their essays. However, in some cases, they are free to choose the topics on their own demonstrating their creativity.
Pay attention that your college essay is not an autobiography. You should not only tell about your life. But keep in mind that your main goal is to demonstrate that you possess the skills and qualities that will help you become a successful student at the educational institution you apply to. Thus, we recommend you to narrow down your focus to your achievements, experiences, and skills obtained in your previous study and extracurricular activities. If there are some personal qualities you would like to mention, feel free to do that, though make sure they are relevant. No matter what college or university you choose, you need to be honest and positive. Having many years of experience, the admission officers can easily recognize fake facts.
One more advice: do not underestimate your college essay. Very often, it is the main decision-making factor because it can help the admission committee members to accept your candidacy. In your college essay, you should focus on the facts that are not mentioned anywhere in your application.