How to Give to Charity Without Donating Money?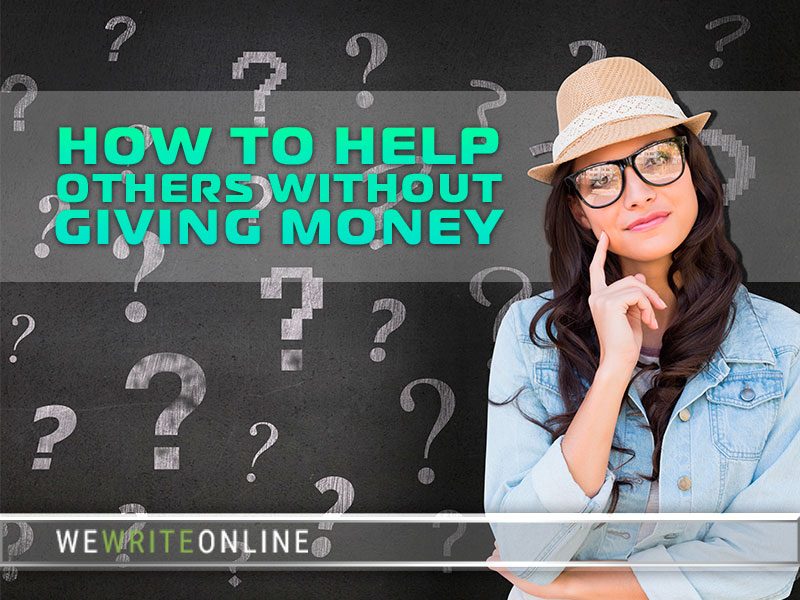 Donating money is not the only way to participate in charity, so if you are currently short of money, or do not trust donation collectors, there are some ways of how to make a difference without giving money.
Donate Blood
Individuals from 17 to 65 can share their blood for people who need serious surgery, victims of accidents, and wounded military service members. At any rate, donating your blood may save someone's life
Share Your Organs
Register for a consent to share your organs after your death. It is not as simple as blood donation, but it will make someone pray for you when he/she survives.
Get Some Puppies to Train for Blind People
If you have a dog, and she brings puppies, don't rush to sell them or give for free. Train them to support blind people, thereby easing someone's life of being incapable of sight.
Help Blind Enjoy Reading
If you want to volunteer your time without spending any money, participate in calibration of books for blind and impaired with sight: it is a unique experience and another good deed!
Just Help Older People
Helping senior people in the garden, doing housekeeping, and cooking meals is quite useful and much-needed volunteering because you train the same skills for yourself and simplify the life of lonely older citizens.
Share Your Gadgets
If you have some gadgets that are not old that much, you may give them to orphanages or to social work agencies, where people, who are in need of computers or tablets for their education, will use them.
Curry Will Protect Tigers
More than 500 restaurants worldwide offer curry chicken at a special price, 25% of which goes to protect Bengal Tigers. Yes, it requires spending some money, but you can be sure about their appropriate use.