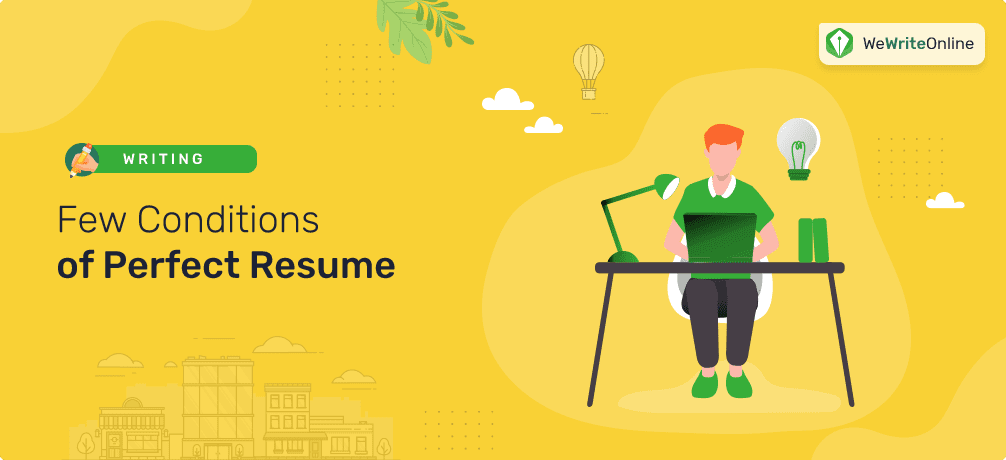 How to Get a Dream Job: a Few Conditions of Perfect Resume
Our life is interesting though demanding! Every conscious person tries to perform at school, to get a superior education, and finally to get the dream job. The job is not the regular word. This word has vast meaning for most people. So, what is the dream job? First of all, it is a way to provide the decent living for you and your family. Second, the dream job has to bring the feeling of satisfaction, comfort and self-esteem. Finally, the good job has to provide the possibility for personal growth and development. However, how and where the person can find the good job? There are different ways of applying to the dreamt position. You can search online, you can use employment agencies or go directly to the aimed organization. However, no matter which way do you prefer, in order to apply for a position, you need to compose an effective and creative resume. So, the first question that may come to your mind is: How to write a resume? You do not need to have a certain resume skills to compose a creative resume. All you need is to read carefully our resume writing tips and spend enough time on crafting your own resume.
10 tips on how to write a resume that grabs the attention and wins the loyalty of the most demanding employer!
Try to find and use the well-structured and easy-to-read template for your resume. The reader prefers to see the information in a structured way. The potential employer will not spend his time looking for important information regarding your education or career. So, it is your task to use the easy-to-read structure with appropriate heading (Personal information, employment history, education, etc).
Start your resume with the contact information. Provide as much contact details as you can. It is good to include your home address, your e-mail address, your home, and mobile phone numbers. Depending on the nature of the job and applied position, it may be useful to provide a link to your Facebook or LinkedIn profile so that the potential employer may contact you by any convenient for him media and learn about your personality.
List your previous jobs (or include the current position, if you work now) in a timeline. Put the most recent experience on the top. The employer is interested to know the most recent facts about you because this information gives a hint on what are you now, what is your recent experience, interests and accomplishments.
If you have work experience, provide the references. Do not write the phrase "References upon the request". It will take time for the potential employer to get back to you and receive the contacts of the referees. So, it is better to provide the phone numbers or e-mail addresses of your former colleagues or supervisors that will be ready to evaluate your strong sides at work. Try to include only those people, whom you trust and who can give the positive feedback.
Emphasize your accomplishments. Every employee performs certain responsibilities, and masters some tasks. However, it is not enough to simply state your responsibilities. You need to share your personal achievements and accomplishments with the hiring manager. For instance, if you have passed some tests (certification) in a particular area, you need to mention that your score is 96 out of 100. Thus, the manager will know that you scored the top percentile. Another example is with the job accomplishments. If you worked as a sales manager, you have to emphasize that you were the best sales representative in the region for 3 months in a row and were awarded the honorable certificate. Particular things grab the attention to your personality and help to persuade the employer that you are the right employee for the open position.
Avoid ambiguity, and be honest. Include only the true information about your education, experience, and work. Otherwise, you jeopardize your reputation. If you forfeit something, your colleagues may find out the truth later, and you will lose your credit.
Do not write too much. The potential employer is not interested in reading your whole life story. The employer wants to make sure that you are the best fit for his opening. So, list the relevant experience. Make it sound clear, concise, and compelling. Do not write more than 2 pages in length.
Do your best to proofread the paper. Try to write it without any grammatical or spell errors. Of course, it is not a big deal when you misspelled one letter. However, some employers may think of you as of an inattentive or illiterate person. Reading your resume gives the first impression of your personality, so do your best to make this impression cloudless.
Use your creativity to write the most creative resume. This will grab attention. Even if your experience is not as vast as the experience of your competitors, sometimes creativity may help. One small creative feature of your resume (the color of the background, the phrase that describes your personality) may grab the attention of the hiring manager, and he will invite you to an interview. Then, it is your turn to persuade him in your superiority!
Avoid personal unnecessary facts. Your hobbies, interests, photos, etc are not relevant. Try to be formal in your creativity!
How to Write a Resume: Select a Correct Resume Style
There are a couple of basic resume types you can be asked to write. Before you start working on your resume, you should clearly understand what resume type to choose because this style will greatly influence the way you will develop your ideas. Have a look at what types of resume you may be asked to write: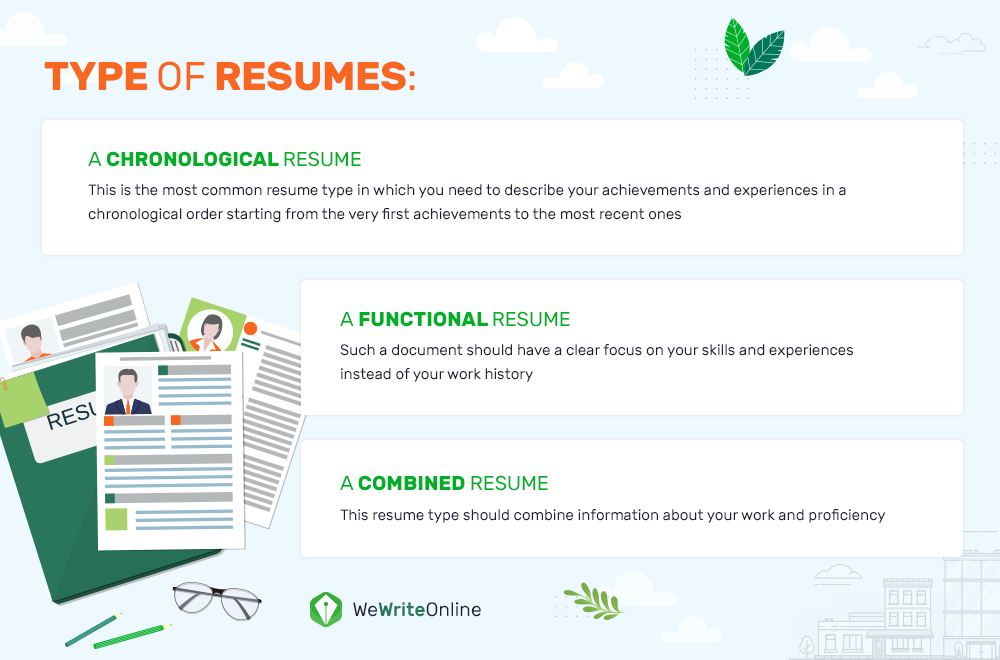 No matter what resume format you will need to follow, you will need to do your best to please the hiring manager.
How to Write a Resume: Choose the Best Resume Type
A resume type you will need to write greatly depends on the career goals you are trying to accomplish. Regardless of the resume type you work with, you need to try to convince the hiring manager that you are a good fit for the position chosen. According to recent studies, the recruiter spends only six seconds reading your resume. Thus, you need to do your best to make it engaging, appealing, and detailed.
How Long Should Your Resume Be?
Writing a one-page resume is a perfect solution. Pay attention that you should not include all facts from your biography but only the most relevant and accurate ones. Yes, sometimes a resume may take more than one page. However, before you start working on such a document, you need to make sure it is appropriate. Pay attention that no matter how long your resume is, it should comply with the common standards and criteria established in resume writing.
We do hope that our tips and practices helped you understand how to make a resume. Believe in yourself and you will definitely achieve your goals!
Now, when you know how to write the catching resume, it is a time to demonstrate your resume skills and win the attention of the hiring manager. Creative resume cannot guarantee that you will get the desired position. However, it will definitely give you a chance to be invited to an interview. This is the task of the resume. Everything else depends on your ability to present yourself, win the loyalty of the employer and get the dream job!
If you are still trying to understand how to create a professional resume, do not torture yourself as you can always order an outstanding paper at our reputed writing service. Having vast experience in resume writing, our experts will provide you with a brilliant piece that will meet and exceed your expectations. Ordering expert resume writing help at WeWriteOnline.com, you will receive a piece tailored to your guidelines and requirements. So, if you do not know how to write a resume, just get in touch with our team and we won't let you down!