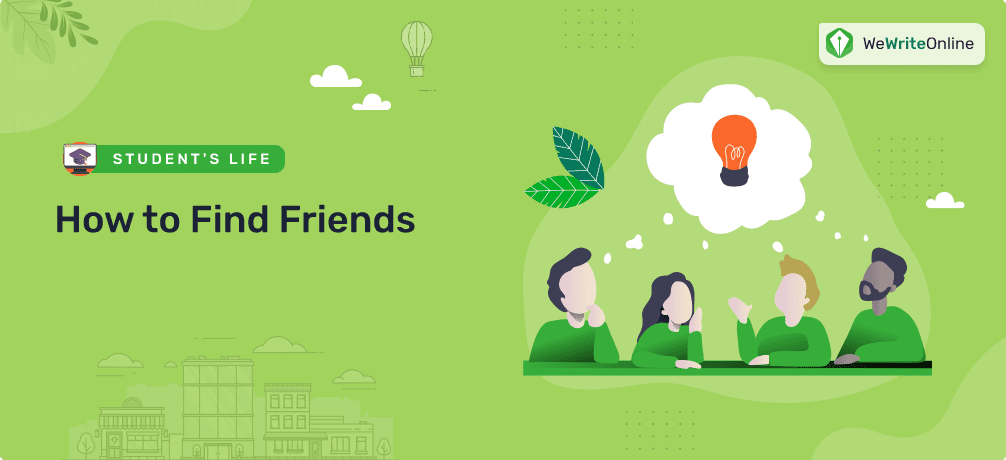 Starting university or college is one of the most crucial moments in everyone's life. It is time you start an adult life and form a new circle of friends and acquaintances. That is why making friends in university is just as important as passing all the exams. You may have trouble making friends in college or university, especially if you had no friends in high school. These tips will help you to handle the situation.
Be yourself

University/college students are all in the same situation feeling nervous or scared at first. Be frank and open to new people, don't pretend to be someone better or worse than you are as long as you wish your new friendship to last. The truth will always come out.

Stay in touch with your old friends

If you have trouble making friends in college/university and feel lonely, your high school or hometown friends can make it easier for you to get over the feeling of the first days' isolation and lack of self-confidence. Use social networking sites like Myspace, Twitter, and Facebook to keep track of your friends.

Use social networking sites

We live in the Internet epoch, so staying out of Twitter or Facebook is not the best way to find new friends. This is especially good for those who have some trouble making friends in university or college or those who had no friends in high school because of their timidity and lack of self-confidence. Join university/college groups on Facebook who have the same interests and you can find some new friends this way.

Become a member of a club

Studying at university/college is not only attending lectures and seminars. Joining a club or tow is an excellent opportunity for making friends in university. Check your university or college website or Facebook profiles to find out what clubs you can join as well as when and where they meet.

Join a university or college sports team

Doing sports is a good way to meet a lot of new people who share the same commitment and determination. Playing basketball or baseball may be a wonderful chance for making friends in university or college. Having similar goals and aspirations may help you get rid of trouble making friends. If you are not very athletic, you may join a cheerleaders' team. Even this way you can meet some great friends.

Find a part-time job

Look for adverts offering part-time jobs for students. Co-workers may turn out to be good friends. Find a job where young people of your age are most likely to work. Working part-time is a good opportunity not only for making friends but also for earning some money to cover your daily expenditure. Find a job where a lot of students or people of your age are likely to work.

Join a fraternity or a sorority

Joining a fraternity or sorority may not be suitable for everyone, but if you feel like doing this, remember that it is a good way to meet new people.

Become a volunteer

Volunteering gives a good ground for meeting new people who share similar interests and take care of those who need help and support. Making friends on the grounds of volunteering will guarantee the strength of your friendship based on sympathy and compassion.

Attend different events

Don't miss a chance to go to the cinema or a sports match any time you're invited or invite others. There's nothing better for starting a friendship on the grounds of being fans or art-lovers. Cheer your favorites, dance to music, or embrace your neighbors when your team scores a goal. Who knows, maybe this person is your best friend to be.

Go to parties

Remember, university/college is not only about getting a degree, it's also about having a great time, so treat yourself to some fun and go to parties whenever you're invited to. The relaxed atmosphere is certain to make it easy to make friends. Don't stay in the dark corner waiting for someone to come up to you. Make the first step and be sure you will be rewarded.

Throw parties

Just like going to the parties, throwing the parties is a good way to gather a lot of people around. Getting everything ready for the party may give you an opportunity to start friendships with those who help you. Think of the concept of your party. This may be a good way to find people who are as original and inventive as you are.

Be sociable

It's impossible to make new friends if you are not talking to people, but just listening to the lecturer or swallowing the books in the university/college library. Ask questions and don't be afraid to ask. Don't look gloomy and unapproachable and show your sheer interest in the person you're talking to. Starting a conversation is the first step to starting an acquaintance.

Don't stay in your dorm room or apartment

Go out as much as possible. Do your homework together with other students. Don't stay in your room all the time. Take some walks around the campus. There are a lot of common areas on the campus where you can study and socialize.

Be approachable

You find it difficult to start a conversation? Remember that you are not alone who feels this way. To make friends you must make it easy for other people to approach you and start a conversation. Be nice and smile at people. They will be nice to you in return.

Take time

To keep a new friendship is not an easy task. Be patient, listen more than talk, don't be too self-centered and take time. Friendship doesn't like rushing and dashing. It needs patience and devotion.

Be a good friend

Making friends is an art. It's difficult to make friends, but it's much more challenging to be a friend yourself. Don't forget this and your acquaintances will grow into an evergreen short-lived rather than turn into a short-lived memory.