Celebration of Easter Sunday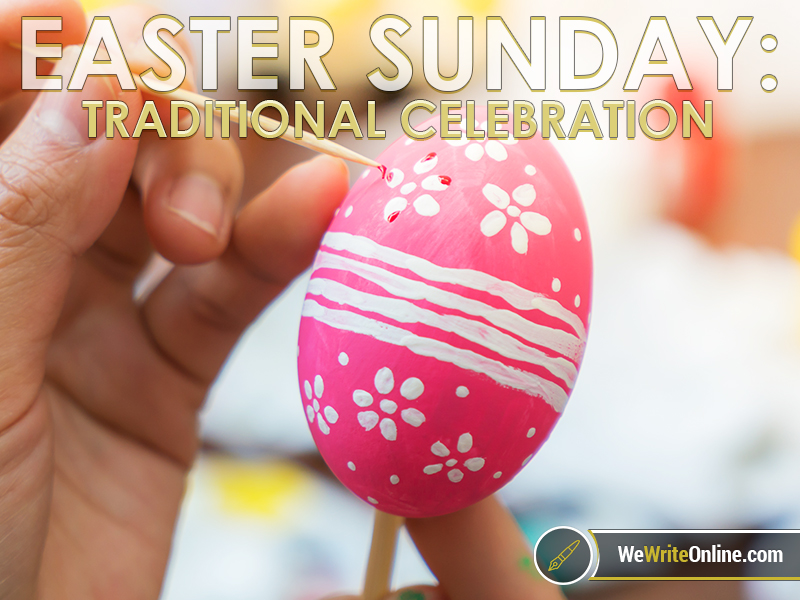 Easter is a special holiday that is celebrated by Christians. On this day people rejoice because of the Jesus Christ's resurrection. It's a well-known fact that Easter traditions might differ in various countries and sometimes even in confessions. However, several Easter traditions are celebrated all over the world.
Step № 1: Try to understand the meaning of this holiday. Usually, all Christians have a 40-day Lent before Easter. It means praying, fasting, and confessing  sins. What is more, the last week before Easter is called Holy Week. During it, Christians also observe Palm Sunday, when Jesus returned to Jerusalem; Holy Thursday, which marks Jesus' last supper with disciples; and Good Friday, the day of Jesus Christ's crucifixion.
In fact, Easter Sunday is the beginning of the Easter season. Christians celebrate it during 50 days and right after Easter season follows another holiday – Trinity.
Understand clearly that Easter Sunday is very important for Christians. The fact that Jesus Christ resurrected is the background of the faith that Christians have. Thus, this day means a lot for Christianity.
Easter also has the pagan historical background. Earlier, it was a festival of pagans which marked the first day of Spring. Therefore, Christians adopted this festival and began the celebration of Jesus Christ's resurrection. Nowadays, the date of Easter is still determined by the vernal equinox.
Step № 2: Celebrate Easter Sunday by visiting worship services in the church. Although church services regarding Easter Sunday might be a little bit different from each other, they try to follow such order of worship that is of a church standard.
Remember to attend a sunrise service on Easter Sunday. The occurrence of the first such sunrise service was in 1732 when Christians gathered at a hilltop graveyard in Germany.
A lot of Christians start celebrating Easter with a Saturday night vigil. During this service, a clergyman reads the resurrection story and after that the bells start ringing and lights should be turned.
Step № 3: Take part in Easter Customs. Participate in Easter egg's decoration. After that follows eggs hunt. Another Easter tradition is an Easter basket given by the Easter Bunny. Take pleasure in eating chocolate symbols of Easter like bunnies, eggs, and candies. Take part in Easter parade. Dress the best clothes you have while new clothes also represent a new birth.
Step № 4: Share a traditional Easter dinner with your relatives and friends. It's common knowledge that customs concerning Easter dinner are quite different all around the world. Nevertheless, in the Western part of the world, the main dish of a traditional Easter dinner must be ham and lamb.
A lamb roast is one of the best choices. This is a traditional dish for Jewish. Frankly speaking, the lamb was cooked in order to be eaten during Passover. After the Jews' conversion  to Christianity, they continued their Passover tradition but in Easter dinners.
A ham is also a good choice. In the United States, the cure of the pork starts in winter and it can be eaten during spring.