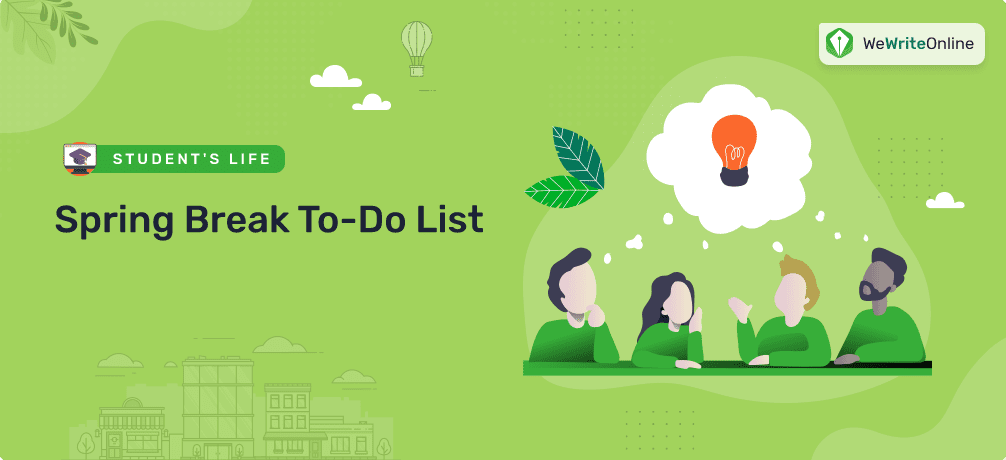 Spring break has always been a time cherished by students. Most of them are willing to take a trip somewhere or simply to escape to the beach in hoped to relax a little bit. There are those who don't really know what to do on a spring break due to so many opportunities available to them that they can hardly make a choice. We believe that spring break shouldn't necessarily be confined within traveling; there is much more one can do in order to rest and return refreshed to a college. In this article, we are going to list some of the ideas students have never thought of before. Not only trips and travels are going to be on the list but also such areas as study, relationships, time for yourself will make up our list of creative ideas for spring break. We hope you will find this list helpful if you are on a break and you don't know what to do today or you are just planning what you will be doing when you have one. For your convenience, we have split the list into sections by categories.
Spring Break To-Do List
Have Fun
Organize or participate in a game night (charades, fish bowl, and other games).
Go roller blading. Never too old for this one.
Organize a movie marathon.
Go to a fitness class with your friends at the gym.
Have a puzzle night. This is a great opportunity to have meaningful conversations.
Attend a dance party.
Pool party is another great idea for warm springtime.
Train and run a 5k.
Go to a karaoke night!
Beach day! All you need is a towel, a book, sand and water.
Attend a sporting event.
Study
Attend Training Classes.
Go volunteering.
Read academic books.
Get a tutor.
Catch-up with studies.
Participate in an online courses.
Attend master classes.
Talk to professionals.
Attend educational events.
Read scientific articles in magazines.
Set a goal to learn new skills.
Learn how to write a resume.
Improve Relationships
Help friends in their routing.
Participate in the events organized by your friends.
Encourage people you know.
Spend some quality time with friends and family.
Take time to talk to those you care for.
Give small token of gifts.
Play sports with your friends and relatives.
Do some nostalgic memory exercises.
Compliment.
Invite your family or friends to a movie.
Do something together.
Get your friends or family member a subscription to a magazine they like.
Time for Yourself
Learn new language.
Read books.
Pick up a new hobby.
Overcome your fears.
Work on your flaws.
Cultivate a new habit.
Start a blog.
Learn chess (and practice).
Learn how to manage your time efficiently (time management classes).
Travel.
Spend time alone meditating.
Read personal development articles a day.
Enjoy the Spring
Plant something green.
Jog outside.
Eat your meals outside.
Go horseback riding.
Feed the ducks in a pond.
Stroll through the gardens.
Kayak on false creek.
Picnic in the park.
Ride a bike.
Eat a ripe apricot.
Get caught in a spring shower.
Fly a kite.
Conclusion
While students don't ask "What to do at university after the classes?" as there are a lot of things to do along with friends and classmates, students are still wondering about creative things to do in spring. The list mentioned above will be helpful for those seeking something more than just a nice traveling adventure. But even this list is not comprehensive; there are many other things that could be added to it. But we hope that even if you don't use these ideas you can develop your own things out of it. We recommend you think about it before the spring break begins. Take some time and use these ideas to plan what you are going to do during your college spring break.